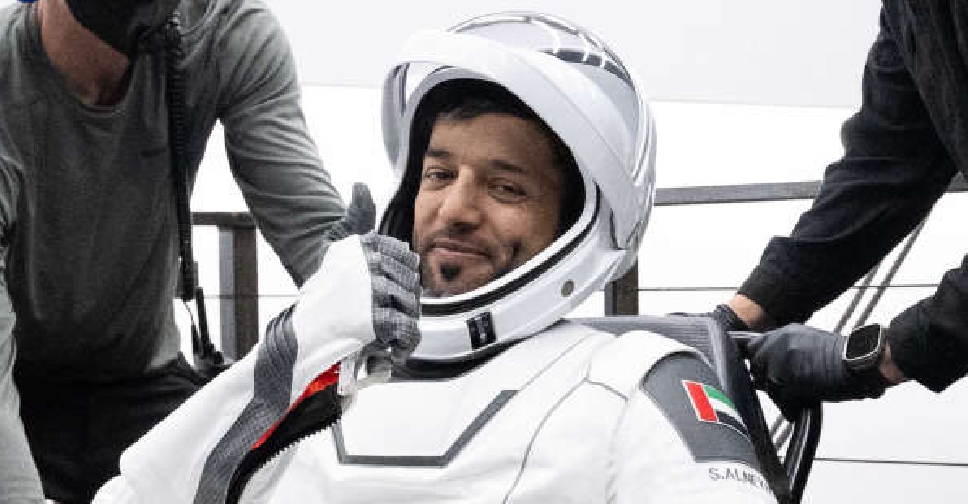 Twitter/@MBRSC
Emirati Astronaut Sultan Al Neyadi made history on Monday, as he successfully completed his six-month mission aboard the International Space Station. 
Al Neyadi and the Space X Crew were originally scheduled to undock from the ISS on September 2 but was delayed due to unfavourable weather conditions in the Gulf of Mexico.
It was confirmed on Sunday that the SpaceX Dragon craft Endeavour had successfully undocked at 3:05 pm GST and the journey would take approximately 17 hours.
Endeavour splashed down at 8:17 am GST on Monday, September 4, near Jacksonville off the coast of Florida.
لقطات من علمية فتح المظلات الرئيسية لمركبة دراجون. #ترجع_بالسلامة_سلطان#طموح_زايد pic.twitter.com/HcfsLKJ73D

— MBR Space Centre (@MBRSpaceCentre) September 4, 2023
On March 2, 2023, a new chapter began in the world of space exploration as Al Neyadi lifted off aboard the Falcon 9 rocket from the Kennedy Space Centre in Florida. This launch marked a historic moment for the UAE and the broader Arab world.
His six-month mission set him apart as the first Arab astronaut to embark on a long-duration stay at the ISS. During his tenure, he conducted over 200 science investigations, advancing further global scientific knowledge.
In April, Al Neyadi also became the first Arab astronaut to undertake a spacewalk. For approximately seven hours, he maneuvered outside the ISS, performing essential maintenance tasks and preparing for the installation of new solar panels.
Born in Umm Ghafa, southeast of Al Ain, in Abu Dhabi in 1981, Al Neyadi, alongside Hazza Al Mansouri became the two people selected from 4,022 candidates to become the first Emirati astronauts. Following a series of mental and physical tests in the UAE and Russia they both went through the UAE Astronaut Programme at the Mohammed bin Rashid Space Centre.
Joining him on the ISS were two NASA astronauts, Stephen Bowen and Warren Hoburg, and Russian cosmonaut Andrey Fedyaev.
In collaboration with NASA and the Mohamed Bin Rashid Space Centre, Neyadi took part in live calls from space. 'A Call From Space' toured each Emirate, attracting over 10,000 visitors and offering UAE residents a unique opportunity to interact with him and get a glimpse into his world during the mission.
كيف تحافظ محطة الفضاء الدولية على توازنها في المدار حول الأرض؟ رائد الفضاء سلطان النيادي أجاب على هذا السؤال الذي طرحه المتابعون على مواقع التواصل الاجتماعي.#طموح_زايد#أطول_مهمة_فضائية_في_تاريخ_العرب pic.twitter.com/IEecyDohiG

— MBR Space Centre (@MBRSpaceCentre) August 19, 2023
During his time onboard the ISS, Al Neyadi faced challenges and the side effects of microgravity, such as "Moon face" which causes facial swelling. Beyond the physical, the emotional challenges of missing family and adapting to life in space were evident following his poignant mention of his growing family during press briefings and often reminiscing whilst sharing photos of home, captured from space. In his last photo shared from Space promised that it's not a "goodbye".
Space, this is not a goodbye. I will see you later, whether on a new mission to the ISS or a farther destination.

I thank my beloved country for turning our dreams into achievements and all of you for your trust and affection.
Wish us a safe return. We'll meet soon. pic.twitter.com/wACH0UCIyu

— Sultan AlNeyadi (@Astro_Alneyadi) September 3, 2023
Now back on Earth, Sultan's journey will continue. He will head home to reunite with his family and undergo treatments to acclimatise to terrestrial conditions. Sultan will then head back to the US to collaborate with NASA and the Mohammed bin Rashid Space Centre to debrief on his experiments.
A nationwide roadshow is planned in the UAE with his experience and stories promising an incredible insight into his time in space, and set to inspire countless others in the UAE and beyond.