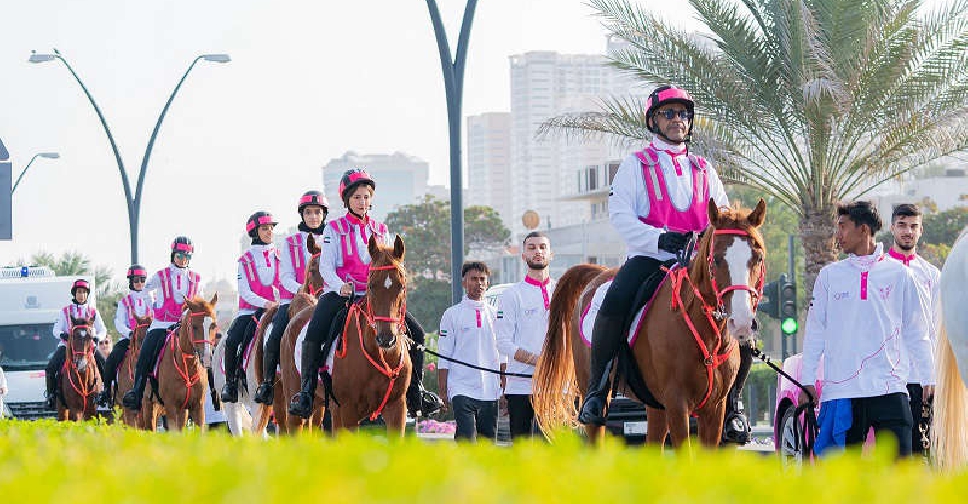 His Highness Sheikh Dr. Sultan bin Mohammed Al Qasimi, Member of the Supreme Council and Ruler of Sharjah, inaugurated the 11th edition of the Pink Caravan Ride (PCR), which started from Al Heera Beach, Sharjah, on Saturday.
Coinciding with World Cancer Day, the annual awareness campaign, organised by the Friends of Cancer Patients (FOCP) under the theme 'Powered by You', will travel across the seven emirates between February 4 and 10 offering free screenings and raising awareness on breast cancer and the importance of early detection to tackle the disease.
The Pink Caravan Ride was made to last. Today, as we continue our journey, we tell everyone: We're powered by you.

From Reem Bin Karam's speech, Chairman of the Supreme Organizing Committee of the Pink Caravan Ride at the opening ceremony. pic.twitter.com/3E8tQYYvoW

— The Pink Caravan (@ThePinkCaravan) February 4, 2023
The PCR marked the annual awareness campaign with the release of a collaborative research study titled "Measuring Breast Cancer Awareness Level in Sharjah," conducted in partnership with NAMA Women Advancement.
The study's findings reveal that 55% of surveyed individuals possess sufficient understanding of self-examination for breast cancer, while 46% demonstrated awareness of general cancer symptoms. The data further indicated that 71% of respondents were less knowledgeable about the causative factors of cancer.
The study also reveals that 33% of the surveyed individuals perform a breast cancer self-examination on an annual basis. Furthermore, 86% of respondents reported that their participation in PCR has inspired them to embrace healthier lifestyles and broaden their understanding of breast cancer.
The Pink Caravan Ride is in it's eleventh year.
We're walking, smiling, laughing, riding… together.

We're powered by you.

نسير. نشارك. نبتسم. نفرح... معاً!
وبكَ نستمرّ.#thepinkcaravan pic.twitter.com/QZa2HVCbeM

— The Pink Caravan (@ThePinkCaravan) February 4, 2023
Sharjah residents can be screened at the Pink Caravan Mammogram Unit stationed at Al Heera Beach in Sharjah and Al Zoraa Marina in Ajman.
Two Minivan clinics are also available at Ajman Thumbay Hospital and Al Heera Beach.
Sunday's ride will take place in Dubai, starting from DIFC Gate Avenue at 8am, passing by Marasi Parking towards Skydive Dubai before reaching JBR at 12.30pm and ending Day two activities in City Walk at 3pm.
Pink Caravan Mammogram clinics will be available at La Mer from 4pm-10pm, while the Daily Min-ivan Stops will be at Dubai Frame and City Walk between 4pm and 10pm.