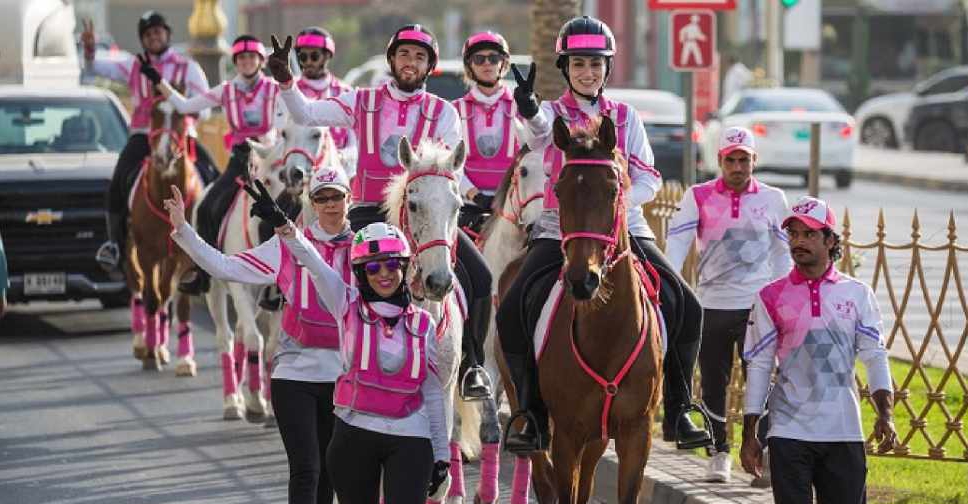 WAM
Equestrian clubs from every emirate in the UAE will be taking part in next year's Pink Caravan Ride (PCR).
February's annual breast cancer awareness campaign is organised by the UAE-based non-profit Friends of Cancer Patients (FOCP).
PCR clinics across the UAE will be offering free medical screenings from February 3 to March 30 for all men and women in the UAE.
Mammograms, clinical examinations, and self-examination training sessions will be available in line with COVID-19 protocols.
Stringent COVID-19 precautionary measures will be in place during the week-long cross country ride.
Seven Pink Caravan ambassador riders will be joined by a team of volunteers, doctors, nurses, and medical support staff from across the country.
Participating clubs will offer horseback riding training and courses in exchange for a nominal fee.
All of the proceeds will be donated to PCR to pay for treatment costs, free screening and to raise awareness about early detection.
In line with the directives and vision of Her Highness Sheikha Jawaher bint Mohammed Al Qasimi, wife of His Highness the Ruler of Sharjah and Founder and Royal Patron of the FOCP, the Higher Steering Committee has confirmed that the 11th edition of the ride will enlist the support of public and private sector institutions, mobilise the UAE community to ensure the ride's successful journey.
The Pink Caravan Ride has emphasised that community awareness, early detection, and regular self-examination are powerful tools for improving breast cancer outcomes and could lead to a 98 per cent cure rate.