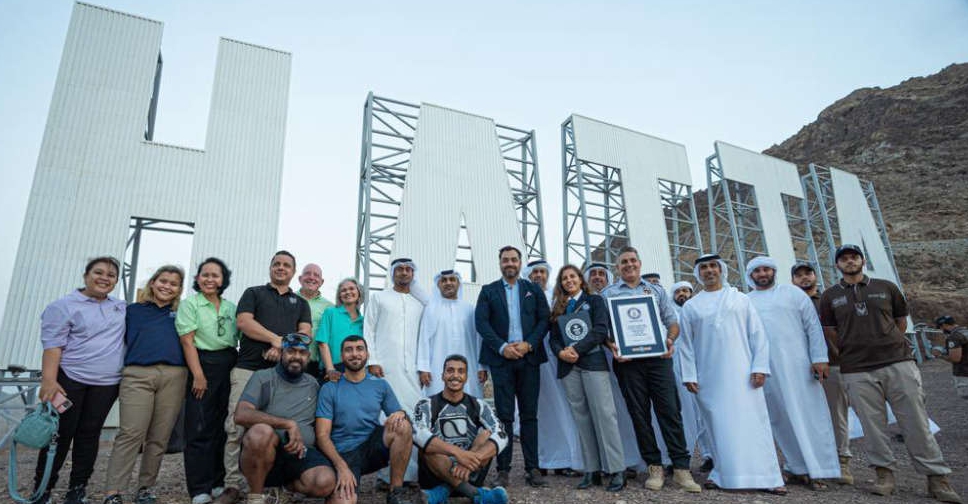 @DXBMediaOffice/ Twitter
Dubai Holding's iconic Hatta Sign has garnered international acclaim by breaking the Guinness World Records title for 'The Tallest Landmark Sign'.
Situated atop the Hajar Mountains, the commanding 19.28-metre-tall structure stands as a striking symbol of Hatta's identity and its status as one of the UAE's most scenic regions.
The Guinness World Records title will shine a global spotlight on the Hatta region.
What was once a local gem is now set to attract international interest, with the heightened attention helping stimulate economic growth and create employment opportunities.
#Dubai's new Guinness World Records Title recognises the Hatta Sign standing at 19.28m. @dubaiholding pic.twitter.com/5Gvq1ihUTW

— Dubai Media Office (@DXBMediaOffice) September 1, 2023
As Dubai Holding's Hatta Resorts readies itself for the upcoming sixth season, the record-breaking Hatta Sign will be a globally recognised attraction that provides visitors a unique backdrop for capturing memorable pictures.
Hikers are encouraged to make the ascent to the sign and take in the area's breathtaking panoramic scenery.
Visitors are welcome to indulge in further adventures at the Hatta Resorts Wadi Hub, the main centre for outdoor activities in the region, including ziplining, mountain biking, rock climbing, zorbing, archery and axe-throwing, with new thrilling activities to be introduced during Season 6.
Hatta Resorts by Dubai Holding also offers unique glamping experiences that seamlessly blend nature and culture with its array of outstanding trailers, lodges, domes and caravans.
#Dubai's new Guinness World Records Title recognises the Hatta Sign standing at 19.28m. pic.twitter.com/xmagIHgKkp

— Dubai Media Office (@DXBMediaOffice) September 1, 2023