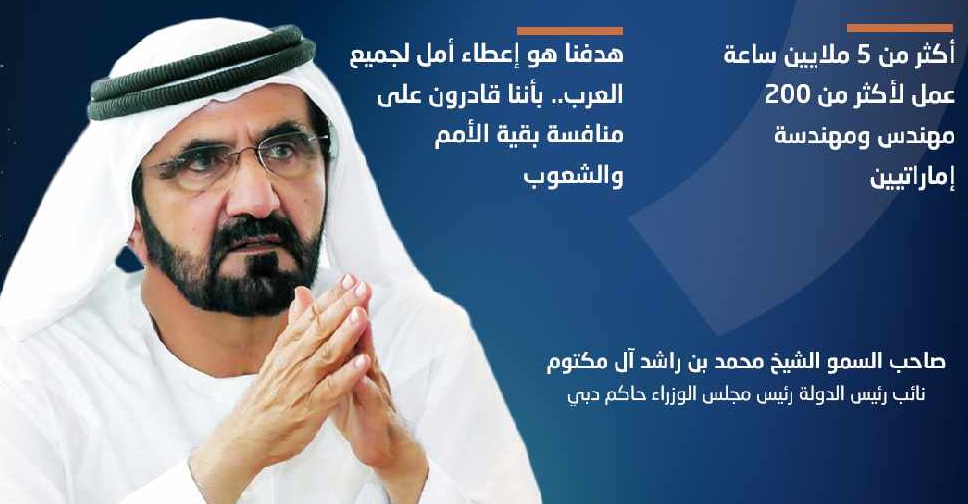 His Highness Sheikh Mohammed bin Rashid Al Maktoum, Vice President and Prime Minister of the UAE and Ruler of Dubai, stated that history has already been made ahead of the Hope Probe's scheduled entry into the Red Planet's orbit at 7:42pm UAE time.
His Highness Sheikh Mohammed delivered the message to the people of the UAE and to the Arab and Islamic nations, via his official account.
"The biggest challenge for the Probe is to enter Mars orbit, with a 50 percent success rate; though the failure rate is 50 per cent, I believe success is within our grasp," he said.
"But I say, even if we could not enter the orbit, we've already made history. This is the farthest point in the universe to be reached by Arabs throughout their history."
Sheikh Mohammed emphasised that "more than five million working hours by over 200 Emirati male and female engineers. Our goal is to give hope to all Arabs that we are capable of competing with the rest of the world."
"We pray to Allah the Almighty to grant us success in reaching Mars," His Highness added.
رسالتي لشعب الإمارات ... pic.twitter.com/xtU6Pot4lx

— HH Sheikh Mohammed (@HHShkMohd) February 8, 2021
Earlier, Sheikh Mohammed reflected on the event's national significance. Posting on Twitter, he stated: "We will commemorate fifty years of the Union by celebrating our arrival to the planet, Mars. We celebrate the outcomes of the efforts of Sheikh Zayed and Sheikh Rashid to invest in human capital."
"We will start preparing for the next 50 years, and we will prove to the world that the UAE and the Emirati people are capable of doing the impossible. Tomorrow, we shall arrive at the furthest point in the universe, " he concluded.
غداً نحتفل بخمسين عاماً من التأسيس عبر وصولنا للمريخ بإذن الله..نحتفي بثمرة عمل زايد وراشد طيب الله ثراهم في بناء الإنسان ..غداً نبدأ الاستعداد للخمسين الجديدة ..غداً نثبت للعالم أن لا شيء مستحيل أمام الإمارات والإماراتيين..غداً نصل بالعرب لأبعد نقطة في الكون#العرب_إلى_المريخ pic.twitter.com/QbSt7xqqtU

— HH Sheikh Mohammed (@HHShkMohd) February 8, 2021
The Hope Probe's entry into the planet's orbit will be livestreamed via the Emirates Mars Mission website from 7:00 pm UAE time, www.emm.ae/live