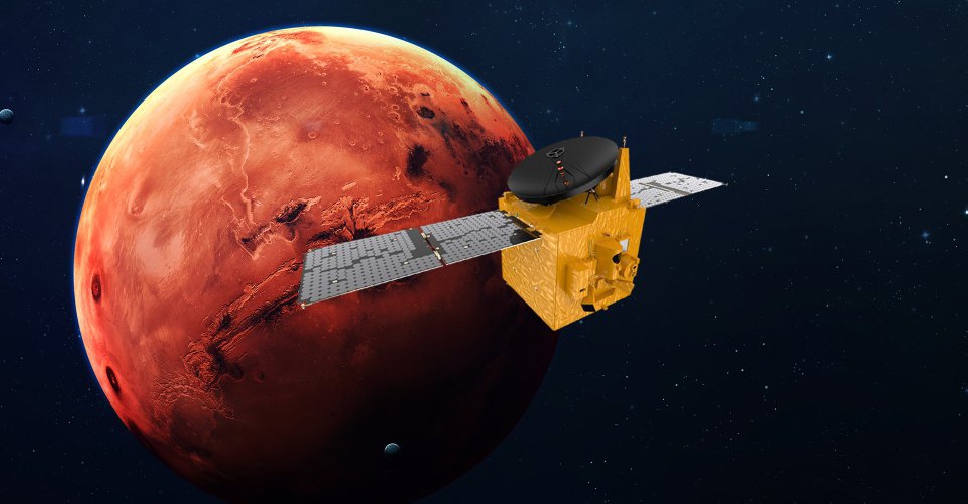 File picture
His Highness Sheikh Mohammed bin Rashid Al Maktoum, Vice President and Prime Minister of the UAE and the Ruler of Dubai, announced that the Hope Probe will reach Mars on February 9, 2021.
In a post on social media, His Highness stated that the UAE's probe has completed its last trajectory manoeuvre.
Sheikh Mohammed noted that the spacecraft has travelled 290 million kilometres in space in 111 days.
His Highness added that the arrival of the first Arab mission to Mars will be celebrated.
بعد مرور ١١١ يوم على انطلاق رحلة مسبار الأمل نحو المريخ والتي قطعت ٢٩٠ مليون كم .. أجرى مسبار الأمل اليوم آخر تعديل في مساره.. ونعلن اليوم تاريخ الوصول الدقيق للكوكب الأحمر ٩-٢-٢٠٢١ بإذن الله تمام الساعة ٧:٤٢ دقيقة مساء .. سيكون لنا عيداً.. وللعرب .. pic.twitter.com/V079VriyvM

— HH Sheikh Mohammed (@HHShkMohd) November 8, 2020
The Hope Probe has successfully completed its third and final trajectory correction maneuver today – another major milestone in its journey to #Mars. The maneuver is to ensure that the probe continues directly targeting Mars' capture orbit. #HopeMarsMission #HopeProbe pic.twitter.com/dwaMI7bGkJ

— Hope Mars Mission (@HopeMarsMission) November 8, 2020