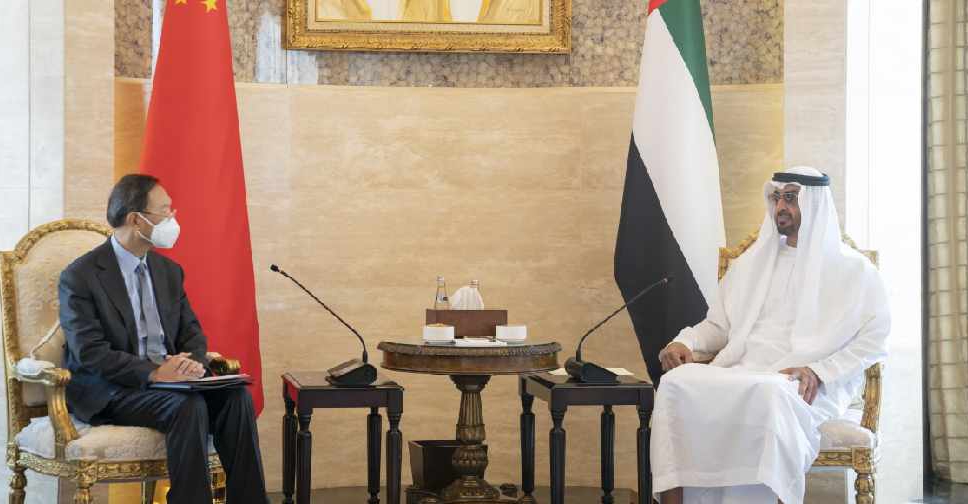 WAM
His Highness Sheikh Mohamed bin Zayed Al Nahyan, Crown Prince of Abu Dhabi and Deputy Supreme Commander of the UAE Armed Forces, has reviewed the global COVID-19 efforts with the Chinese Presidential envoy.
Sheikh Mohamed also received a message from China's President Xi Jinping, regarding the strengthening of close ties and the comprehensive strategic partnership between the two countries.
The message was delivered to His Highness by the Chinese leader's special representative Yang Jiechi, at Al Shati Palace in Abu Dhabi.
Yang conveyed President Xi's greetings to President His Highness Sheikh Khalifa bin Zayed Al Nahyan and Sheikh Mohamed, along with his wishes for further progress, development and stability for the UAE.
Sheikh Mohamed and the envoy discussed ways of enhancing strategic cooperation as well as developments in the scientific, medical, investment and economic sectors.
In addition, they reviewed the latest updates regarding the COVID-19 pandemic and its common global challenges.
The importance of the two countries' cooperation in the fields of pandemic containment, prevention and control, was stressed during the meeting.
And they also discussed global efforts for developing COVID-19 vaccines.
His Highness Sheikh Mohamed bin Zayed Al Nahyan, Crown Prince of Abu Dhabi and Deputy Supreme Commander of the UAE Armed Forces, has received a message from H.E. Xi Jinping, President of China,regarding the strengthening of the close ties of friendship between the two countries. pic.twitter.com/TbfYsfpWzy

— @UAEEmbassyChina (@UAEEmbChina) October 10, 2020