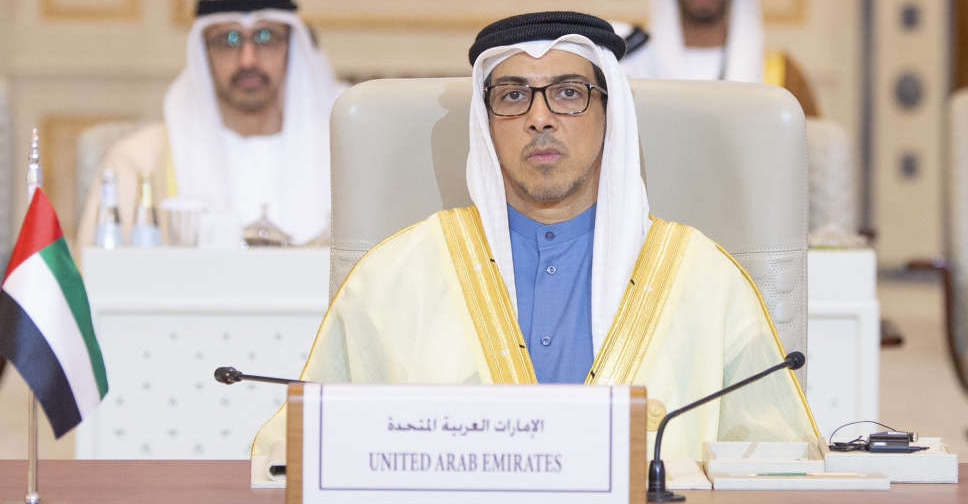 Sheikh Mansour bin Zayed Al Nahyan arrived in Riyadh as the head of the UAE delegation to the Joint Arab-Islamic Extraordinary Summit, hosted today by the Kingdom of Saudi Arabia on the developments in Gaza.
As the Vice President, Deputy Prime Minister and Chairman of the Presidential Court, Sheikh Mansour attended the summit on behalf of President His Highness Sheikh Mohamed bin Zayed Al Nahyan.
The UAE delegation to the summit includes H.H. Sheikh Abdullah bin Zayed Al Nahyan, Minister of Foreign Affairs; Dr. Anwar Gargash, Diplomatic Adviser to the UAE President; Sheikh Shakhboot bin Nahyan Al Nahyan, Minister of State; Khalifa Shaheen Al Marar, Minister of State; and Sheikh Nahyan bin Saif Al Nahyan, UAE Ambassador to the Kingdom of Saudi Arabia.
Upon arrival at King Khalid International Airport, Sheikh Mansour bin Zayed and his accompanying delegation were received by His Royal Highness Prince Mohammed bin Abdulrahman bin Abdulaziz, Deputy Governor of Riyadh Region, and several senior officials.
Sheikh Mansour posted on his official X (formerly Twitter) account and said, "On behalf of the Head of State, I participated in the Joint Arab-Islamic summit on developments in the Gaza Strip. We appreciate the efforts of the Kingdom of Saudi Arabia in hosting this important summit. The UAE supports all diplomatic moves to protect civilians in Gaza and achieve the aspirations of the Palestinian people for stability and peace."
نيابة عن رئيس الدولة، شاركت في القمة العربية الإسلامية المشتركة بشأن التطورات في قطاع غزة..نثمن جهود المملكة العربية السعودية الشقيقة في استضافة هذه القمة المهمة..الإمارات تدعم كل التحركات الدبلوماسية لصالح حماية المدنيين في غزة وتحقيق تطلعات الشعب الفلسطيني إلى الاستقرار والسلام pic.twitter.com/3trAWfKZU0

— منصور بن زايد (@HHMansoor) November 11, 2023