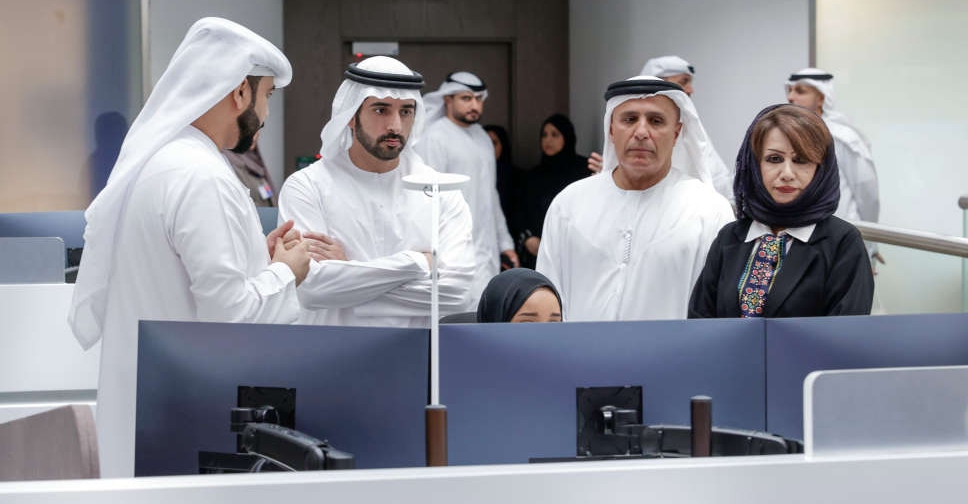 @DXBMediaOffice/ X
His Highness Sheikh Hamdan bin Mohammed bin Rashid Al Maktoum, Dubai's Crown Prince and Chairman of The Executive Council of Dubai has reviewed the progress of projects to develop the emirate's roads and transport infrastructure.
He toured the Intelligent Traffic Systems (ITS) Centre in Al Barsha, which is one of the largest and most advanced traffic control centres in the world.
Sheikh Hamdan was briefed on the RTA's plans to have 100 per cent of Dubai's road networks covered by intelligent traffic systems by 2026. Currently 60 per cent of the road networks are covered.
Since its opening in November 2020, the ITS Centre has significantly enhanced the city's traffic management, leading to a 20 per cent reduction in travel time, a 63 per cent improvement in incident monitoring and a 30 per cent faster response time.
Equipped with an array of traffic-monitoring and data-gathering devices, the centre plays a key role in ensuring that Dubai's intelligent traffic management systems are able to effectively cope with the rapid expansion of road networks.
"The centre is connected to an 820-km-long fibre optic network, and 425 traffic surveillance cameras, including Dubai police cameras," said Mattar Al Tayer, Director-General and Chairman of the Board of Executive Directors of the RTA.
"It is also equipped with 235 incident-monitoring and vehicle counting devices, 115 travel time measurement devices, 112 electronic display signs, and 17 road weather information systems," he added.
I toured the Dubai Intelligent Traffic Systems Centre in Al Barsha, and observed it's innovative projects to develop infrastructure and broaden the use of intelligent traffic management across Dubai's entire road network. One of the largest of its kind globally, the centre… pic.twitter.com/lZjiDaxAAD

— Hamdan bin Mohammed (@HamdanMohammed) September 5, 2023
Sheikh Hamdan was briefed on the smart screening system for paid public parking, which currently covers 65,000 slots or 34 per cent of all paid parking spots.
These are monitored by nine smart screening vehicles, which are set to double to 18 by the end of the year.
The expansion will cover around 140,000 slots or 70 per cent of total paid parking areas. The system has significantly enhanced the operational efficiency and digital transformation of the parking screening process.
Road network indicators
The total length of Dubai's road network has grown from 8,715 lane-km in 2006 to 18,768 lane-km in 2022, marking a 115 per cent growth.
The number of bridges and underpasses saw a big increase, from 129 to 988 during the same period, a 666 per cent expansion.
Moreover, the number of pedestrian bridges and underpasses increased from 26 in 2006 to 122 in 2022, an increase of 369 per cent.
Efforts to ramp up traffic safety standards have contributed to a significant drop in incident-related fatalities, from approximately 22 cases per 100,000 of the population in 2006 to only 1.9 cases in 2022, placing Dubai among the best global cities in terms of traffic safety alongside urban centres in Sweden, Norway, and Japan.
These improvements have put the UAE in the global top tier in road quality between 2013 and 2017 and secured it a high international ranking in the road and highways satisfaction index in 2020.
.@HamdanMohammed visits Dubai's Intelligent Traffic Systems (ITS) Centre in Al Barsha, one of the largest and most advanced traffic control centres in the world. The centre boosts Dubai's ability to meet its growing needs emerging from its increasing urbanisation. #Dubai pic.twitter.com/I7OBP1KNRl

— Dubai Media Office (@DXBMediaOffice) September 5, 2023