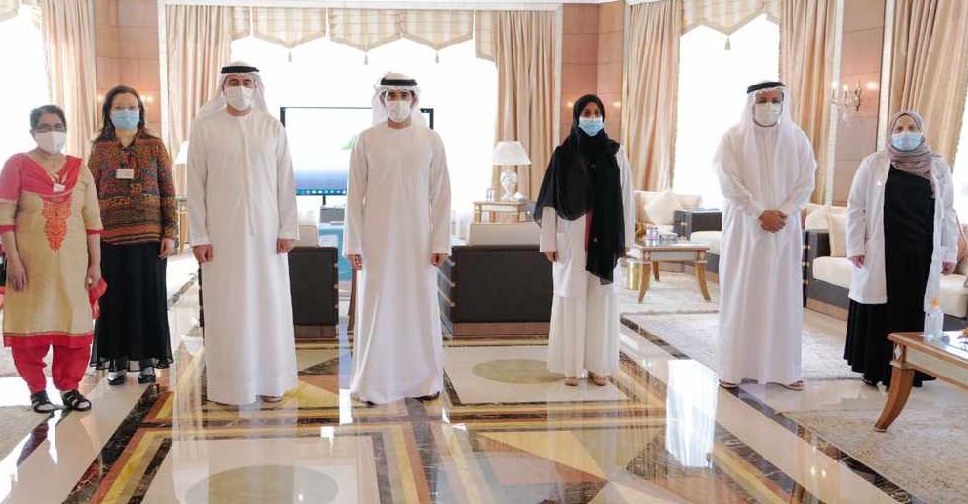 @DXBMediaOffice/ Twitter
His Highness Sheikh Hamdan bin Mohammed bin Rashid Al Maktoum, Crown Prince of Dubai and Chairman of Dubai Executive Council has praised the UAE's healthcare system and the competency of the country's medical staff.
This came during a reception hosted by Sheikh Hamdan for a medical team, which recently carried out the Arab region's first-ever fetal surgery for a spinal cord defect.
The complex six-hour surgery was performed on a 25-week-old fetus by the team at Latifa Hospital for Women and Children.
During the meeting, Sheikh Hamdan was briefed about the surgery by Dr. Mona Tahlak, Consultant Obstetrician and Gynecologist, CEO of Latifa Hospital, and Dr. Muhammad Al-Ulama, Consultant Neurosurgeon at Rashid Hospital - the two Emirati specialists who led the team of more than 20 doctors and nursing staff.
"I am proud to see this inspiring team bring hope and relief to an Emirati family preparing to welcome their healthy child," said His Highness.
"Our expert Emirati medical talents continue to uplift our confidence in our healthcare services. To all our medical and nursing staff, you are extremely valued... Thank you for your tireless efforts. The health and happiness of our society is in your hands," he added.
Today, I met an Emirati medical team who performed the region's first-ever corrective fetal surgery on the spine of a 25-week-old fetus in the womb. I am proud to see this inspiring team bring hope and relief to an Emirati family preparing to welcome their healthy child. pic.twitter.com/mPIK8RB8H3

— Hamdan bin Mohammed (@HamdanMohammed) November 17, 2020
Our expert Emirati medical talents continue to uplift our confidence in our healthcare services. To all our medical & nursing staff, you are extremely valued... Thank you for your tireless efforts. The health and happiness of our society is in your hands. pic.twitter.com/EsRsHJqr70

— Hamdan bin Mohammed (@HamdanMohammed) November 17, 2020