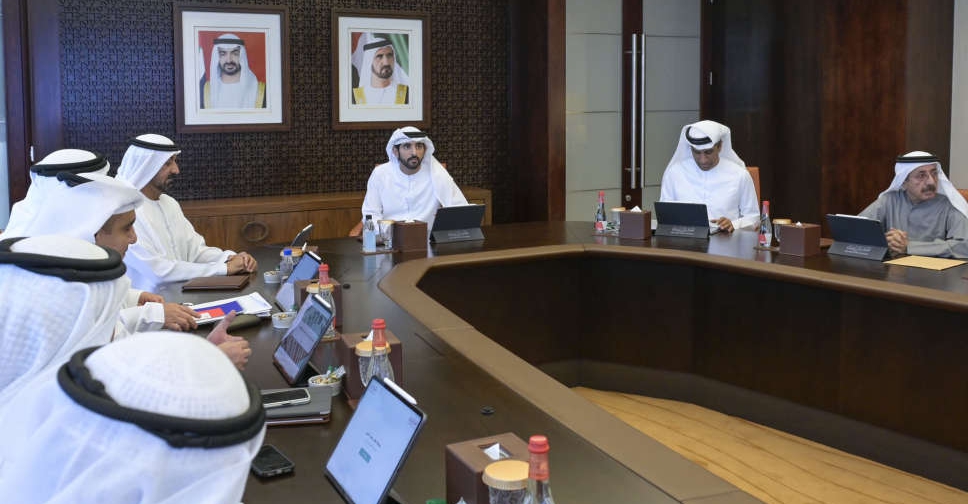 @DXBMediaOffice/ Twitter
As the UAE gears up to host COP28, Dubai is committed to striking the right balance between sustainability and growth.
That's the message from His Highness Sheikh Hamdan bin Mohammed bin Rashid Al Maktoum, Crown Prince of Dubai and Chairman of The Executive Council of Dubai, who approved a number of policies and initiatives to support UAE's sustainability efforts and raise Dubai's contributions to global efforts to protect the environment.
He chaired a chaired a meeting of the Executive Council on Wednesday, which explored opportunities emerging in the circular economy and adopted a new Green Procurement Policy for Dubai government and a Shared Services function designed to enhance the efficiency of government services.
Sheikh Hamdan highlighted that the Year of Sustainability announced by His Highness Sheikh Mohamed bin Zayed Al Nahyan, President of the UAE, places greater responsibility on Dubai to support the environment.
"Dubai has taken initiatives to ensure we are at the forefront of global efforts to overcome the challenges of climate change. In line with the vision of His Highness Sheikh Mohammed bin Rashid Al Maktoum, Dubai seeks to set an example for an environment and people-friendly city that is committed to preserving the planet for future generations," said His Highness.
He added that Dubai leads global cities in promoting sustainable development focused on providing the highest levels of service for its citizens and residents.
Dubai also benchmarks itself with the best in the world to continuously enhance economic growth and the quality of life of its people.
Sheikh Hamdan emphasised that the government is not alone today in this journey.
"The private sector is a strategic partner that significantly contributes to Dubai's efforts to build an environment-friendly city and create an attractive business destination. We are all working hand-in-hand to serve our society and advance inclusive and sustainable development," he explained.
Today, I chaired a @TECofDubai meeting during which we approved policies & projects aligned with the President's announcement of 2023 as the Year of Sustainability. As the UAE gears up to host COP28, Dubai is committed to striking the right balance between sustainability & growth pic.twitter.com/3nz66o4HAP

— Hamdan bin Mohammed (@HamdanMohammed) March 1, 2023
Circular Economy Opportunities
The Executive Council approved plans to take advantage of opportunities in the circular economy by reducing the total demand for consumables, and limiting the disposal of these materials so that they can be reused on a regular basis.
In addition, the meeting explored how the environmental footprint of various industries and key sectors like construction, food, packaging, and waste management can be reduced.
These efforts will build on the significant progress Dubai has made in reducing its environmental footprint and contributing to the circular economy.
Since 2012, the Dubai Electricity and Water Authority's initiatives have helped raise the contribution of renewable energy sources to total production capacity to 9%.
The Dubai Supreme Council of Energy adopted the 2016-2021 Carbon Emissions Strategy to reduce emissions by 22%, and reduce energy and water consumption by 30%.
In addition, the implementation of the single-use bag reduction policy was implemented in mid-2022, resulting in positive outcomes, apart from various other initiatives introduced by various government and private entities.
Green Procurement Policy
The Executive Council also approved the Green Procurement Policy, a key initiative to support the circular economy, which aims to stimulate the local supply chain, adopt more sustainable practices, broaden the use of sustainable materials, create a competitive environment, reduce the environmental footprint, and enhance financial efficiency, all of which will raise Dubai's reputation as a city that uses its resources sustainably.
The Policy, which was piloted with several government entities to assess its practicality ahead of implementation, includes the development of measurable environmental and technical standards for procuring green products in line with Dubai's efforts to boost environment protection and encourage the private sector to adopt green technology, green products, and green services, as well as high sustainability standards in all government procurement.
The Green Procurement Policy will focus on four categories for government purchases in its first phase of implementation: construction materials, information technology devices, lighting materials, and the waste management sector.
Shared Services
The Executive Council also approved a Shared Services function designed to improve the government's efforts to enhance Dubai's business attractiveness.
The concept focuses on providing proactive, specialised, and seamless services for customers and government entities, leading to enhanced efficiency and effectiveness of the government. The platform features a number of initiatives aimed at enhancing the level of support services.
The Council directed all government information to be provided through a single communication channel. This move reflects the objectives of the 360 Services Policy, which the Council adopted in 2022 to further raise Dubai's status as a leader in government services, strengthen quality and coordination mechanisms and raise the government's financial efficiency.