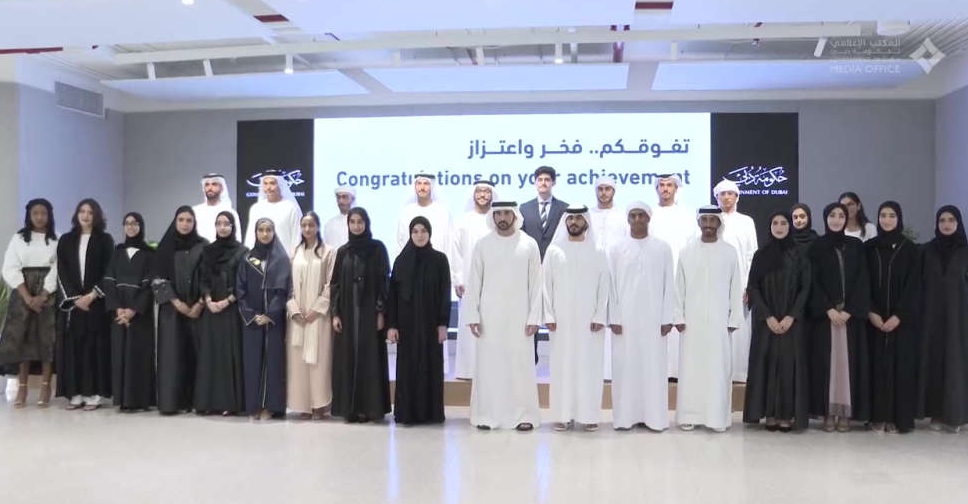 @DXBMediaOffice/ Twitter
Scholarships and other rewards have been announced for Dubai's top high-school achievers.
Dubai's Crown Prince His Highness Sheikh Hamdan bin Mohammed bin Rashid Al Maktoum has issued directives to offer the students financial rewards and scholarships at prestigious universities.
He met some of the students at Emirates Towers and others via video conferencing.
"Education is a top priority for His Highness Sheikh Mohammed bin Rashid, and his vision focuses on recognising and rewarding talent," said Sheikh Hamdan.
The students, who graduated during the academic year 2021-2022, were drawn from public and private schools and various curricula.
I met Dubai's top high-school achievers at Emirates Towers. We issued directives to offer them financial rewards and scholarships for prestigious universities. Education is a top priority for @HHShkMohd, and his vision focuses on recognising and rewarding talent pic.twitter.com/C3ouRKUjlA

— Hamdan bin Mohammed (@HamdanMohammed) November 17, 2022
Scholarships
The meeting was held as a result of a system for recognising and rewarding top Dubai students.
Previously announced by Sheikh Hamdan, the plan focuses on empowering youth, talent and scientific competencies. It also supports efforts to develop Emirati youth and their capabilities, especially in strategic sectors.
The system includes discretionary incentives providing top achievers with opportunities for academic scholarships and financial rewards. Emirati students can obtain scholarships within and outside the country at the most prestigious international universities.
Resident students can get financial aid for international university branches in free zones and a priority issuance of golden visas for them and their families.
Methodology
In coordination with the Knowledge and Human Development Authority (KHDA) and Dubai's public and private schools, a smart electronic system is applied to standardise high school results across different curricula to ensure fairness while calculating grades.
This system identifies Dubai's top achievers across diverse curricula and is aligned with international best practices.
The system identified the top 50 male and female high school students for the academic year 2021-22, as of August 2022.
These included 25 Emirati and 25 resident students from select curricula, including the UAE's Ministry of Education, American (advanced level), International Baccalaureate, and British curricula. The cohort also includes graduates of Grade 12 and Year 13.