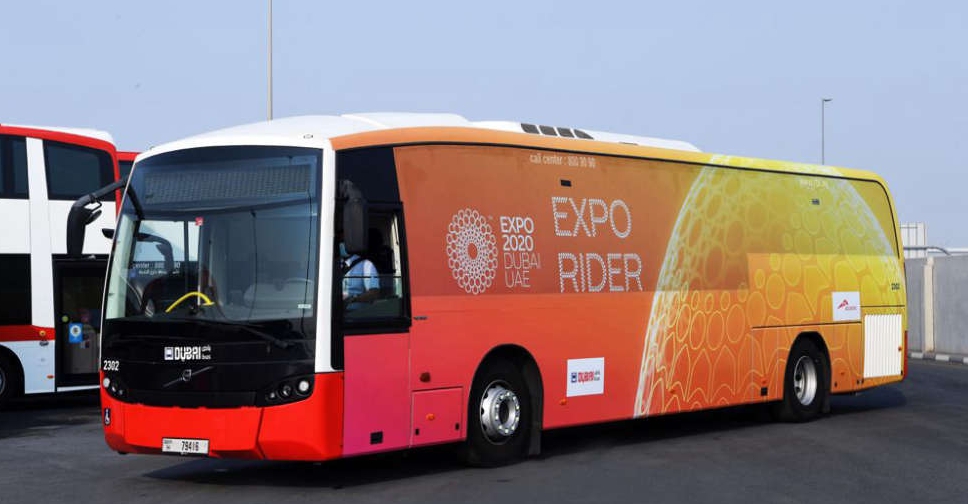 Supplied
Dubai's Roads and Transport Authority (RTA) has deployed dedicated buses to serve Expo 2020 visitors for free from 18 locations across the UAE.
As many as 203 'Expo Rider' buses will transport visitors from nine stations in Dubai and from nine others spread across Abu Dhabi (3 locations), Sharjah (2), Ajman (1), Ras Al Khaimah (1), Fujairah (1) and Al Ain (1).
Two Dubai routes will also lift visitors directly from hotels near the Expo site.
The stations include Abu Dhabi International Airport, Abu Dhabi Main Bus Station, Marina Mall Station and Al Ain Bus Station.
There are two stations in Sharjah: Al Jubail Bus Station and Muwaileh Bus station in addition to Ras Al Khaimah Bus Station, Ajman Bus Station, and Fujairah Bus Station (near City Centre Fujairah).
There will be 287 trips per day during weekdays, rising to 358 trips during the weekends (Thursday and Friday).
The RTA had previously designated 126 Expo Riders buses to transport visitors for free directly from 9 stations in Dubai: Palm Jumeirah, Al Baraha, Al Ghubaiba, Etisalat, Global Village, International City, Dubai Silicon Oasis, Dubai Mall and Dubai International Airport (Terminal 3) with 455 to 476 daily journeys.
It will also provide commuter service between the parking area to the three Expo Gates: (Opportunity, Mobility, and Sustainability) as well as Expo People Mover to transport visitors between the Expo Gates.
Don't miss the chance to be a part of the World's Greatest Show in #Dubai and use public buses to easily reach from all Emirates to @expo2020dubai.
Get a #nol card and plan your trip via the #Shail app.
Learn more: https://t.co/G2Urfzjjxf pic.twitter.com/pXJy8HIuqu

— RTA (@rta_dubai) September 29, 2021
Service Hours:
Expo Riders will operate from 06:30 am and continue service for 90 minutes after the closure of Expo Gates.
Passenger commuting service from the parking area (Expo Parking Shuttle) to the three Expo Gates will start at 09:00 am and continue for 90 minutes after the closure of Expo Gates.
Bus Service between Expo Gates (Expo People Mover) will start service at 06:30 am and continue service 90 minutes after the closure of Expo Gates.
Taxi and e-hail services will be running around the clock.

Modern Buses
The transit service for Expo 2020 visitors features buses of high quality, safety and luxury standards, with comfortable seats and compatible with Euro 6 low-carbon emission standards, making them the first of their kind in the Middle East and North African region.
Buses have low floors for easy boarding and disembarkation making them accessible to people of determination.
#RTA announced the provision of free bus rides to visitors of @expo2020dubai aboard Expo Rider buses from 9 locations in the UAE. https://t.co/6pqh6Vr9EF pic.twitter.com/5EOKLDz6y8

— RTA (@rta_dubai) September 29, 2021