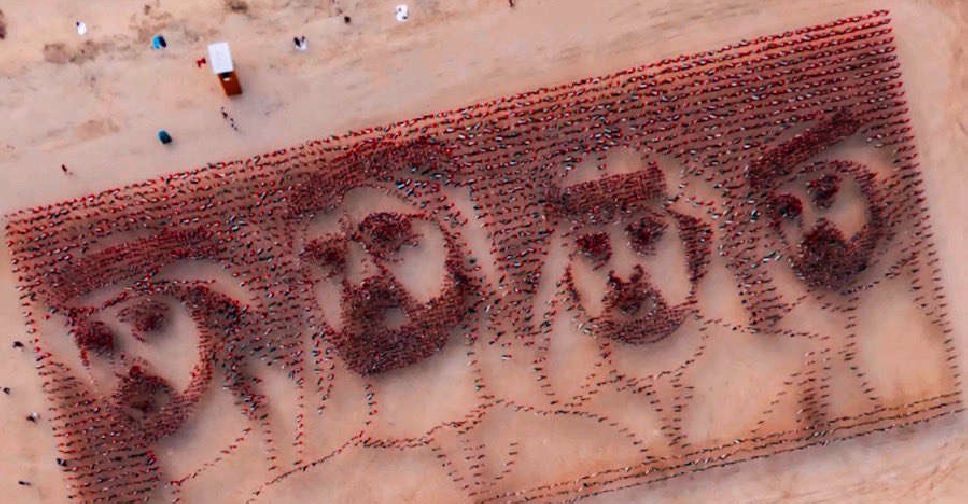 Dubai's leading media entities have come together to celebrate UAE Flag Day at the Flag Garden in Umm Suqeim.
Organised by Brand Dubai, the creative arm of the Government of Dubai Media Office, the 10th edition of the Flag Garden features 6,000 flags arranged to form aerial portraits of Dubai's leaders.
It pays tribute to their instrumental role in propelling the city's progress in various domains.
This year's Flag Garden features portraits of His Highness Sheikh Mohammed bin Rashid Al Maktoum, His Highness Sheikh Hamdan bin Mohammed bin Rashid Al Maktoum, His Highness Sheikh Maktoum bin Mohammed bin Rashid Al Maktoum and His Highness Sheikh Ahmed bin Mohammed bin Rashid Al Maktoum.
The Flag Garden, which is located at Umm Suqeim beach against the backdrop of the Burj Al Arab, is open to the public until January 10, 2024.
"This iconic event has evolved into an integral part of our UAE Flag Day celebrations, fostering a sense of national pride and allegiance. By hosting the Flag Garden, we aim to commemorate the UAE's accomplishments and pay tribute to our visionary leadership's commitment to the nation's extraordinary development," said Mona Al Marri, Vice Chairperson and Managing Director of the Dubai Media Council and Director General of GDMO.
"This year's Flag Garden has been designed to convey our gratitude to Dubai's leadership and appreciation for their visionary approach, which has transformed Dubai into an unparalleled model of development, a hub for shaping the future, and a destination for individuals with ambitious dreams looking to turn them into success stories," added Shaima Al Suwaidi, Director of Brand Dubai.
The Flag Garden creatively reflects Dubai's spirit and its gratitude to its leadership, featuring 6,000 flags arranged to create portraits of @HHShkMohd, @HamdanMohammed, @MaktoumMohammed and @AhmedMohammed , on Umm Suqeim beach. @DXBMediaCouncil @dubaimediainc @Brand_Dubai… pic.twitter.com/yGsIgKYZap

— Dubai Media Office (@DXBMediaOffice) November 3, 2023