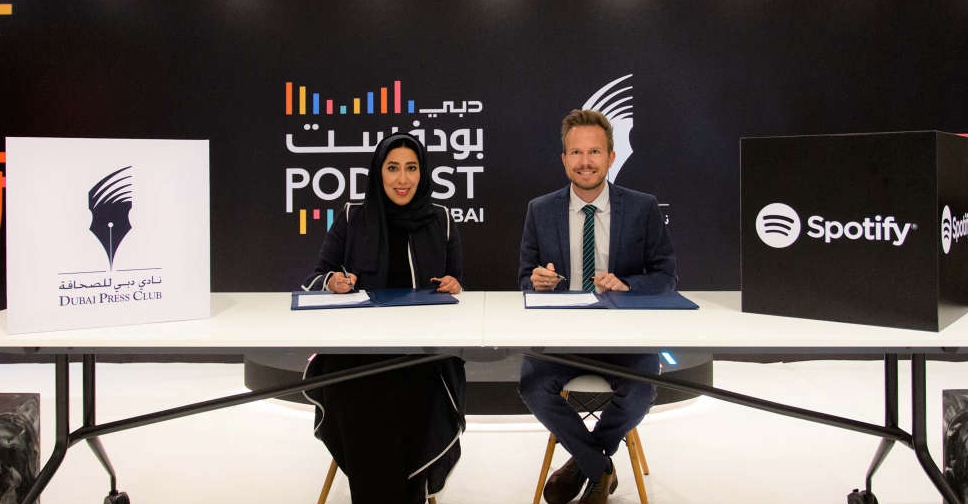 WAM
The Dubai Press Club has entered into an agreement with Spotify, the global audio streaming platform to advance podcasting in the emirate.
The agreement is expected to give the region's audio content creators more advanced access to global audiences while nurturing podcasting talent.
It was signed by Mona Al Marri, the President of Dubai Press Club, and Claudius Boller, Spotify's Managing Director for the Middle East, Africa and South Asia, on the sidelines of the first edition of Dubai PodFest.
"This strategic collaboration seeks to further enhance creativity in the Arab world and highlight the potential of various podcasters while also accelerating the development of the podcasting sector," said Al Marri.
The collaboration comes in light of the significant growth of the MENA podcast market and an increase in the consumption of audio content across the region.
Further details of this collaboration will be revealed at a later stage.
Dubai's Own Podcast
Meanwhile, the city is launching 'Dubai Edition', a podcast programme focused on sharing compelling stories from Dubai. It will host officials from the Dubai government and various cultural and creative figures who will share inspirational stories and discuss the city's aspirations for the future.
PodFest
Held under the patronage of Sheikh Ahmed bin Mohammed bin Rashid Al Maktoum, Chairman of the Dubai Media Council, Dubai PodFest examined the various challenges facing audio content creators in marketing their podcasts and attracting listeners.
It discussed the future of podcasting in the Arab world and the prospective opportunities in the sector.
The event also highlighted the experiences of various podcasters from across the Arab world and discussed their roles in promoting positive content and inspirational stories.
It brought together more than 200 prominent podcasters and audio content creators, in addition to leading organisations in the sector, to explore growth opportunities and the future of podcasting in the region.