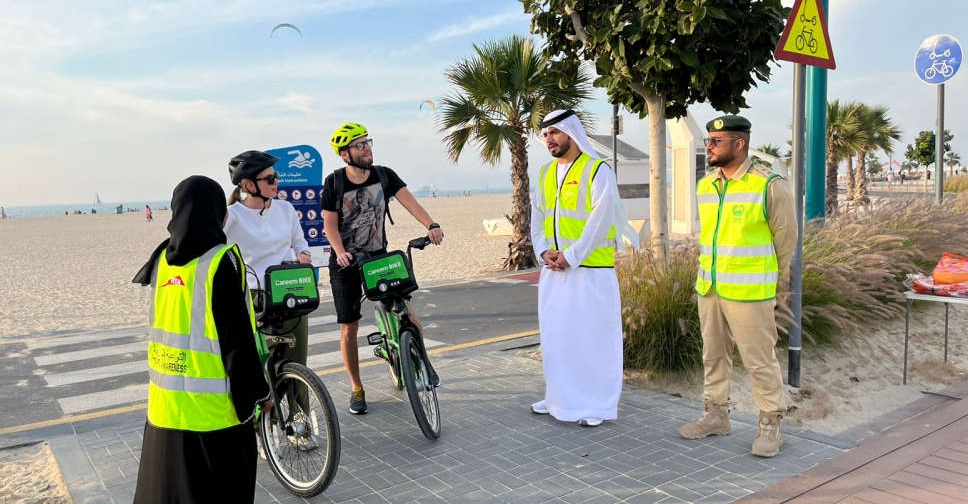 Dubai Police and the Roads and Transport Authority (RTA) have joined hands to educate cyclists and electric scooter riders about the rules and regulations.
Awareness campaigns and field visits have been stepped up ahead of the winter months when the use of two-wheelers tend to increase.
The authorities are highlighting the importance of using designated paths, complying with speed limits, wearing helmets and reflective vests while riding and fitting bikes with reflective lights.
They have already carried out 90 field visits since the start of 2023, reaching out to nearly 3,000 cyclists and e-scooter users.
"The goal is to control and reduce wrong practices and reduce traffic incidents along with the associated human casualties. These efforts play a key role in reinforcing road safety and lowering the incidence of fatal accidents," explained Major General Saif Muhair Al Mazrouei, Director of the General Department of Traffic at Dubai Police.
"In addition to providing them with information about safety requirements, traffic regulations and tips about the causes of traffic incidents, they were briefed on how to reach service centres or report any violations," said Abdullah Yousef Al Ali, CEO of the RTA's Traffic and Roads Agency.
Al Ali also stressed the importance of adhering to the designated speed limits, which vary according to the location.
"For instance, the maximum speed within residential areas and along beaches is 20 kph, while the speed limit on the Meydan lane and streets shared with vehicles is set at 30 kph. Seih Al-Salam and Al-Qudra lanes have no defined speed limits," he explained.
The RTA has issued about 63,516 e-scooter riding permits through its online registration platform, which was launched in April 2022.
Permit-holders are allowed to use e-scooters within the routes and streets designated by the RTA.
#RTA and #DubaiPolice General Headquarters joined hands in outreach and law-enforcement campaigns to raise public awareness and provide educational guidance for bicycle and E-scooter riders. The campaign employed various channels, including direct field visits and guidance ads in… pic.twitter.com/BYSiZ91Ask

— RTA (@rta_dubai) November 6, 2023