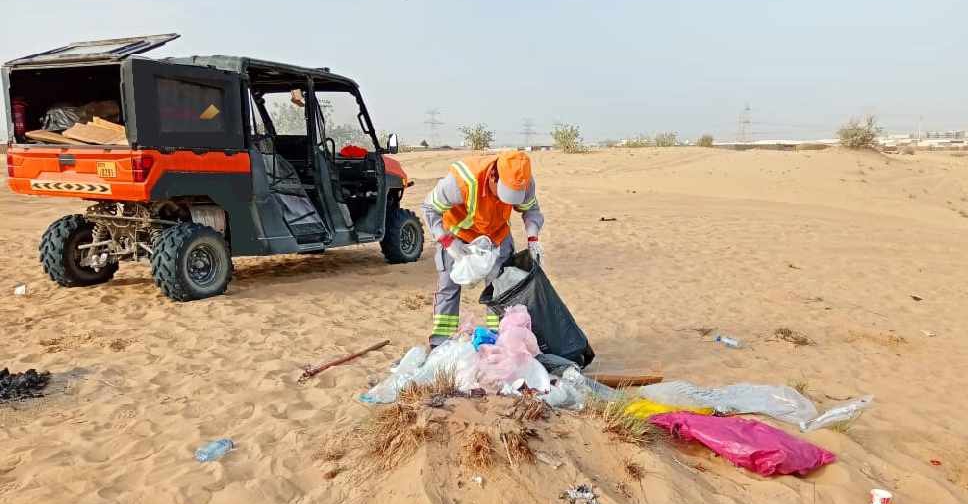 Supplied
A major desert clean-up operation is being carried out by Dubai Municipality, which will continue until the end of April next year.
A team of 100 workers, 33 control and supervisory staff and six desert bikes have been deployed for the campaign.
Twenty-four additional mechanisms are also in place for collecting and transporting waste.
Workers have already collected nearly 130 tonnes of waste from deserts and wild areas since the beginning of October.
Al Qudra street extension, Al Ruwaiya 3, Al Warsan 2 and 3, as well as tourist spots in Hatta, Al Qudra Lakes and Love Lakes, are some of the locations coming under focus.
The area behind the defence camp in Al Aweer, Lehbab-2, Tripoli Street, Wadi Al Amardi, Wadi Al Shabak, Emirates Road, Amman Street in Al Khawaneej and Al Tayy are also being cleaned.
"The work plan started since the beginning of October and the field plan programme included a number of main topics, the most prominent of which is the implementation of the tasks of monitoring the cleanliness of desert sites, the removal of all waste periodically and the implementation of field awareness programmes for the public at these sites, in addition to providing appropriate waste storage methods and special containers for the safe disposal of coal waste," said Eng. Abdulmajeed Saifaie, Director of Dubai Municipality's Waste Management Department.