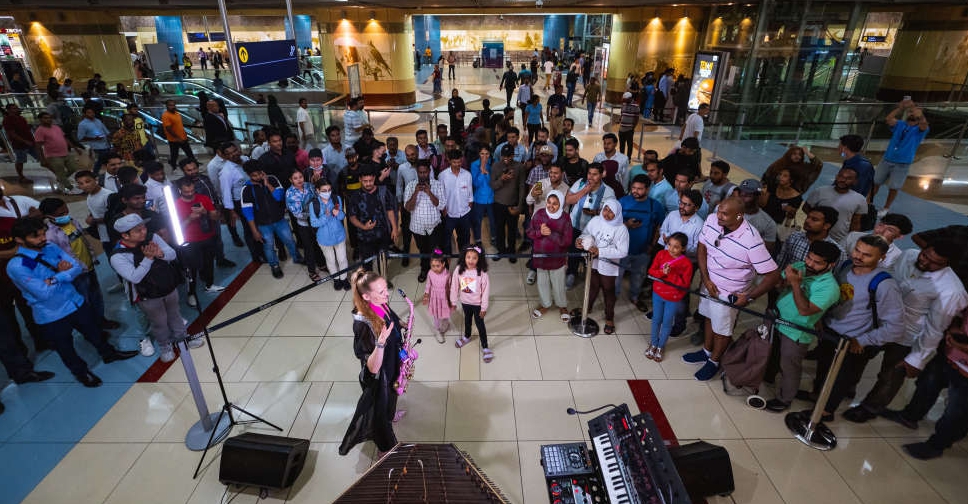 The third edition of the Dubai Metro Music Festival came to a close on Sunday after a week-long celebration of global music that saw five metro stations transformed into stages for live performances.
More than 800,000 commuters were treated to captivating performances by 20 local, regional, and international musicians representing unique sparks of creative talent in a wide range of instruments, genres, and styles.
The festival organised by Brand Dubai, the creative arm of the Government of Dubai Media Office (GDMO), in collaboration with the Roads and Transport Authority (RTA), was held from March 6-12 across five Dubai Metro Stations: Union, Mall of Emirates, Burjuman, Dubai Financial Centre, and Sobha Realty.
From traditional to experimental musicians, classical instrumentalists to fusion musicians, the event featured artists from Egypt, India, France, Thailand, Azerbaijan, Pakistan, Nigeria, Cuba, the United Kingdom, Lebanon, Canada, Netherlands, Jordan, and Australia, besides the UAE.
This year's fest was dedicated to the theme of sustainability in line with the UAE's announcement of 2023 as the 'Year of Sustainability'.
Several musicians showcased their talents using instruments made from recycled materials, adding a distinctive touch to their performances.
This creative approach helped raise awareness about sustainability and highlighted the importance of using eco-friendly materials.
"The Festival's interactive and contemporary approach helped draw attention to sustainability issues in a unique way thanks to the popularity of the Dubai Metro," said Rowdah Al Mehrizi, Director of the RTA's Marketing and Corporate Communication Department.
The Dubai Metro Music Festival was a key event highlighted in the latest #DubaiDestinations campaign, which invited residents and visitors to explore Dubai's diverse art and cultural experiences during the #DubaiArtSeason.
"The success of the Festival is a testament to Dubai's vibrant arts and cultural diversity and its position as a leading global cultural hub. It is an honour to orchestrate the convergence of brilliant musicians that led to the transformation of Dubai's public spaces into immersive art experiences that delight and inspire residents and visitors alike," said Shaima Al Suwaidi, Director of Brand Dubai.