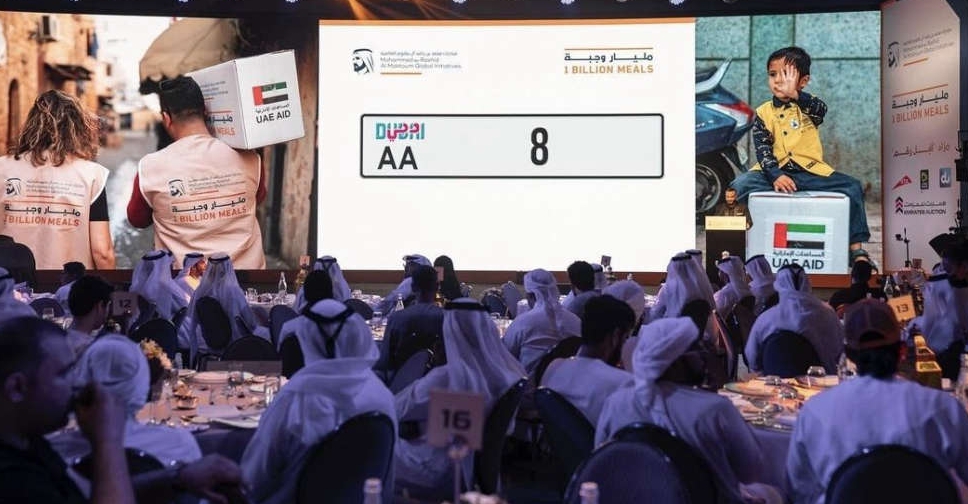 WAM
Unique number plates AA8, F55, V66 and Y66 went under the hammer in Dubai in support of the UAE's 1 Billion Meals initiative.
Number plate AA8 fetched AED 35 million, while F55 and V66 collected AED 4 million each and Y66 AED 3.8 million.
Jointly organised by the Mohammed bin Rashid Al Maktoum Global Initiatives (MBRGI), Roads and Transport Authority (RTA), Abu Dhabi Police and Emirates Auction, special number plates and 10 phone numbers fetched a total of AED 53 million in less than two hours.
Etisalat's Diamond mobile numbers collectively sold for AED 5.42 million, while du's special numbers raised a total of AED 725,000.
It brings the total donations collected by the 1 Billion Meals initiative - that will feed the poor in 50 countries around the world - to AED 391 million.
53 million dirhams, 53 million meals for the needy. Dubai's first "Amble Number" charity auctions in support of our humanitarian campaign efforts to support hunger in 50 countries around the world. AED 53 million = 53 million meals collected for people in need.

Donate Now 🍽 pic.twitter.com/tvbbO99j5k

— One Billion Meals (@OneBillionMeals) April 17, 2022
The second 'Most Noble Numbers' charity auction will be held on Wednesday, April 20, at the Emirates Palace hotel in Abu Dhabi. It will offer special Abu Dhabi plates, including numbers 11, 20, and 999 from code 2 and plate number 99 from code 1.
Meanwhile, the online auction for 555 distinct vehicle plate numbers will be held on April 17 and 18.
It will include a series of distinct double-digit numbers such as 88 from code 1 and triple-digit numbers such as 111 from code 12, in addition to special four-digit numbers like 1111 from code 2 and 8888 of the code 1.
Five-digit numbers such as 11111 of code 2 and six-digit numbers such 777777 code 1 are also on offer.