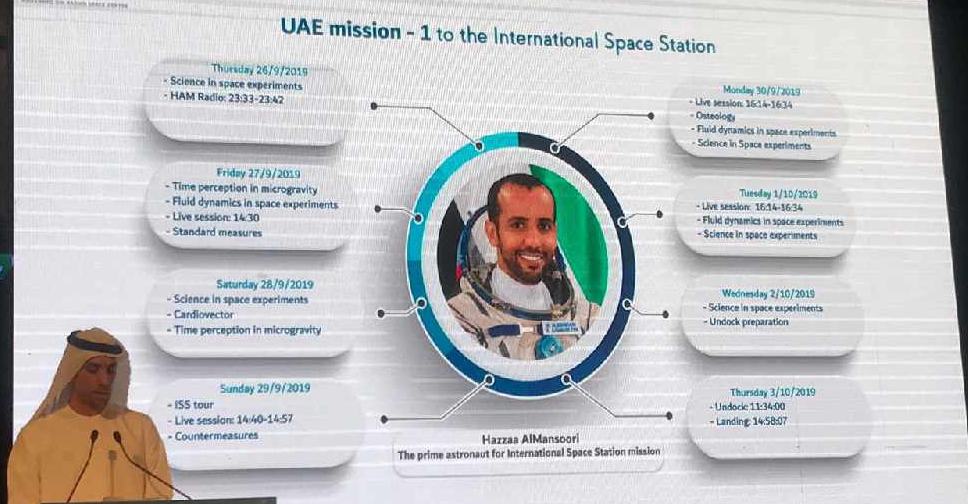 ARN News
The UAE's first astronaut will carry out 16 different experiments during his time on the International Space Station (ISS).
That's according to the Mohammed bin Rashid Space Centre (MBRSC), which says Hazza Al Mansoori will extensively study the changes that the human body experiences in space.
The experiments will also be done by students in more than a dozen schools in the UAE to see how the results differ from space.
Mariam Al Zarouni, from the education team of the UAE Astronaut Programme, told ARN News that he will also be studying microgravity.
Al Mansoori, who is set to become the first Emirati to go into space, has successfully passed all his final medical tests in Russia and will spend two weeks in quarantine to avoid the risk of contamination.
It's also been revealed that the rocket carrying the three astronauts will launch at 5:56 pm UAE time on September 25.
The MBRSC said it could take anywhere from two hours to two days for the Soyuz-MS 15 spacecraft to reach the ISS.
Salem Al Marri, Assistant Director-General for Scientific and Technical Affairs at MBRSC says Al Mansoori will be in touch with many of us here on the ground.
Al Mansoori will also take around 10 kg worth of UAE-related souvenirs and memorabilia onboard the ISS including pictures of the country's leaders and Ghaf tree seeds.