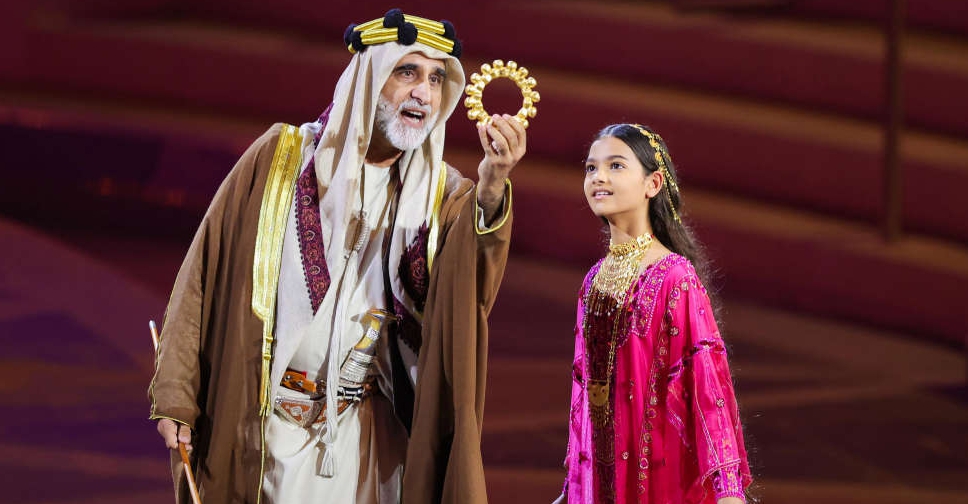 Supplied
Expo 2020 Dubai got off to a rousing start on Thursday with an immersive audiovisual show and breathtaking performances.
The sprawling site's Al Wasl Plaza came alive with a stunning display of visuals, music and performances.
The venue was decked up in more than 30,000 lights, with the Al Wasl Dome forming a 360-degree display.
Among those who performed tonight were world-famous tenor Andrea Bocelli, Grammy-nominated, Golden Globe-winning actress, singer and songwriter Andra Day; Platinum-selling British singer-songwriter Ellie Goulding; international pianist Lang Lang; and four-time Grammy winner Angelique Kidjo.
The event was declared officially open by His Highness Sheikh Hamdan bin Mohammed bin Rashid Al Maktoum, Dubai's Crown Prince and Chairman of the Dubai Executive Council.
Crown Prince of #Dubai @HamdanMohammed: Today, the entire world gathers in the United Arab Emirates. Today, we witness, together, a new beginning, as we inaugurate @Expo2020Dubai pic.twitter.com/esAYqjS87A

— Dubai Media Office (@DXBMediaOffice) September 30, 2021
.@HHShkMohd and @MohamedbinZayed at the opening ceremony of @Expo2020Dubai. pic.twitter.com/jqtOVcc2Oe

— Dubai Media Office (@DXBMediaOffice) September 30, 2021
Attendees witnessed a groundbreaking show with star-studded performances, special effects, larger-than-life props and spectacular visuals displayed on the world's largest 360-degree projection surface.
The ceremony perfectly showcased the talents and creativity of the UAE and the world.
It's the first event of its kind to be held in Al Wasl Plaza, the heart of Expo 2020.
As the stage revolved, cutting-edge theatrical techniques involving sound, light and projections brought the show to life.
September 30, 2021
لقطات من حفل افتتاح الحدث الأروع في العالم... إكسبو 2020 #دبي

Live moments from @expo2020dubai opening ceremony, as star performers take the stage. #Expo2020 #Expo2020Dubai pic.twitter.com/zjRGHwnG5q

— Dubai Media Office (@DXBMediaOffice) September 30, 2021
لقطات من حفل افتتاح الحدث الأروع في العالم... إكسبو 2020 #دبي
Live moments from @Expo2020Dubai opening ceremony, as star performers take the stage. #Expo2020 #Expo2020Dubai pic.twitter.com/U9IHmAcW7I

— Dubai Media Office (@DXBMediaOffice) September 30, 2021
In the presence of @HHShkMohd and @MohamedbinZayed, the @Expo2020Dubai opening ceremony kicked off with delegations from more than 190 countries participating in this global mega-event. #Dubai #Expo2020 pic.twitter.com/lVAnZ9ZJmx

— Dubai Media Office (@DXBMediaOffice) September 30, 2021
Sheikh Nahyan bin Mubarak Al Nahyan: Today, 192 countries gather with their own pavilions in an unprecedented event in the more than 170-year history of the Expo world fair. We are committed to making the world a better place for all. @Expo2020Dubai. pic.twitter.com/tSKAjiV2ky

— Dubai Media Office (@DXBMediaOffice) September 30, 2021