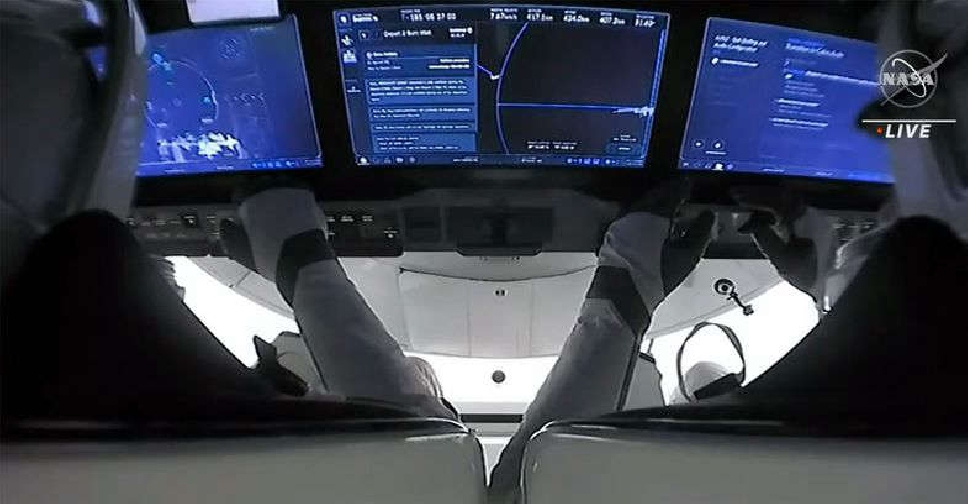 NASA/X
Emirati astronaut Sultan Al Neyadi was on his way back to Earth on Sunday following a successful undocking from the International Space Station (ISS).
Al Neyadi and his three colleagues - NASA astronauts Stephen Bowen and Woody Hoburg and Rocosmos cosmonaut Andrey Fedyaev - left the ISS at 3:05 pm, travelling aboard the SpaceX Dragon craft Endeavour on a journey spanning approximately 17 hours, culminating in a splashdown near Jacksonville off the coast of Florida at 8:17 am GST on Monday.
The undocking was delayed from its original planned date of September 2 due to unfavourable weather conditions in the Gulf of Mexico.
During his six month mission Al Neyadi became the first Arab astronaut to complete a spacewalk mission outside the ISS, which lasted about seven hours.
That success consolidated the UAE's global leadership in the space sector, as the country ranked 10th globally in spacewalking missions outside the ISS.
Al Neyadi also completed about 4,000 hours of work in space and contributed to the development of scientific and technological advancement in the UAE by conducting about 200 scientific experiments in various fields.
The Emirati astronaut also conducted scientific experiments in cooperation with 25 local and international universities and 10 international space agencies, implementing about 19 research experiments in cooperation with NASA, the European Space Agency, the Canadian Space Agency, the Japanese Aerospace Exploration Agency (JAXA) and the National Centre for Space Studies in France.
This cooperation contributed to the completion of the Lumina experiment, the first-of-its-kind study into the degrees of space radiation on the ISS, in addition to preparing scientific medical studies that include studying the cardiovascular system and studying the causes of diseases in space.
Al Neyadi's journey also enriched society's knowledge of the space sector and its fields through the A Call from Space series, which attracted more than 10,000 people, in addition to organising about 12 visual communications with the public and seven wireless communications from the Mohammed Bin Rashid Space Centre (MBRSC).
Highlights of the departure burns, which are the short firing of Dragon's Draco thrusters, moving the spacecraft away from the ISS.#SafeReturnSultan#ZayedAmbition pic.twitter.com/RgLdCDcdCA

— MBR Space Centre (@MBRSpaceCentre) September 3, 2023