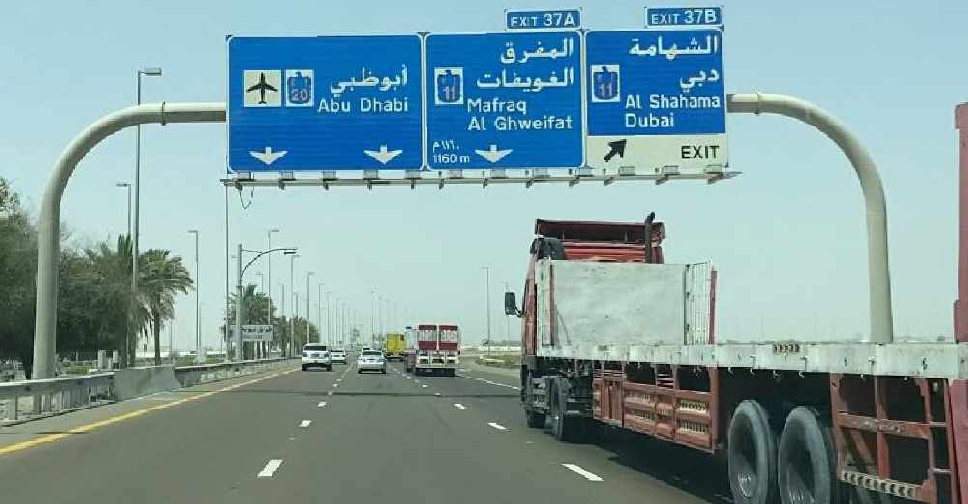 File photo (For illustration)
Abu Dhabi Police have announced a ban on the movement of trucks, heavy vehicles and some buses across the emirate's roads.
The movement ban applies to all entrances, including Bridge Sheikh Zayed Bridge, Sheikh Khalifa Bridge, Mussafah Bridge and Al Maqtaa Bridge.
This move coincides with Commemoration Day and the 50th National Day celebrations.
The ban starts from 3:00 pm on Tuesday, November 30, and will last until 5:00 am on Saturday, December 4.
For busses, those transporting workers are prohibited during this period. Vehicles of public cleaning companies, meanwhile, are excluded from the restriction.
Brigadier General Muhammad Dhahi Al-Hamiri, Director of the Traffic and Patrols Directorate said that a "comprehensive traffic plan will be implemented," to include a higher presence of traffic patrols on all roads and smart regulations to optimise traffic flow.
#أخبارنا | منع دخول الشاحنات وحافلات نقل العمال في يوم الشهيد والعيد الوطني الخمسين

التفاصيل:https://t.co/0tzZfdq6B4#شرطة_أبوظبي#أخبار_شرطة_أبوظبي pic.twitter.com/ao3vKAE0C1

— شرطة أبوظبي (@ADPoliceHQ) November 30, 2021
Sharjah Police have also implemented a similar truck movement ban over the course of the National Day weekend.
Trucks will not be allowed to travel through Khorfakkan for four days, starting from November 30.
They will be permitted to resume on Saturday, December 4.
#تنويه

تنوه إدارة شرطة المنطقة الشرقية بوقف دخول الشاحنات إلى مدينة خورفكان لمدة أربعة أيام، إبتداءً من يوم الثلاثاء 2021/11/30 حتى الجمعة 2021/12/3 وذلك بالتزامن مع احتفالات الدولة بعيد الخمسين.

على أن تستأنف حركة السير صباح السبت 2021/12/4

— شرطة الشارقة (@ShjPolice) November 30, 2021