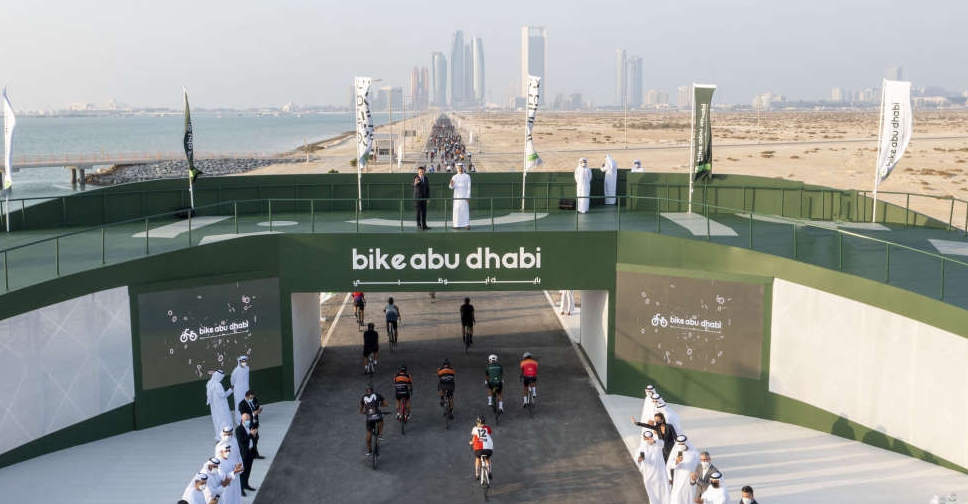 Abu Dhabi Media Office
Abu Dhabi has earned the title of Asia's first 'bike city' after urban cycling infrastructure and activity-oriented programmes are being furthered significantly.
The title was awarded by the Union Cycliste Internationale (UCI).
In addition to the new designation, Bike Abu Dhabi was launched by Sheikh Khaled bin Mohamed bin Zayed Al Nahyan, member of Abu Dhabi Executive Council and Chairman of the Abu Dhabi Executive Office.
Bike Abu Dhabi is a new platform to "spearhead the emirate's long-term cycling ambitions to become a leading global cycling hub," according to an Abu Dhabi Media Office report.
#AbuDhabi's world-class cycling facilities are about to get even better! Under Bike Abu Dhabi, the city will welcome the Abu Dhabi Loop, and new 109km designated cycling track linking attractions around the city, and a new 3,500 seater velodrome offering track racing facilities. pic.twitter.com/gJNQrNsGYR

— مكتب أبوظبي الإعلامي (@admediaoffice) November 2, 2021
The UAE capital introduced the new entity to lay the groundwork for enhancing infrastructure and foster links between three critical elements for cycling growth - mobility, health and leisure, and sport.
The infrastructure is expected to expand the emirate's 300km cycling network to more than 1,000 km.
Importantly, the pathway will include a 109 km Abu Dhabi Loop, which is a segregated cycleway linking key destinations across the city.
Abu Dhabi's plans to advance cycling as a more environmentally friendly form of transport are in line with the UAE's wider efforts to drive sustainability, underlined by the country's bid to host COP28 in 2023.
The UAE capital joins other established 'Bike Cities' around the world, including Bergen in Norway; Copenhagen, the Danish capital; Glasgow in Scotland; the French capital of Paris, Vancouver in Canada; the English county of Yorkshire.
Plans have also been drafted to build Velodrome Hudayriyat, which will be a 3,500 capacity, 12,000 sqm arena for track racing that will play host to high-profile international and local cycling events.
خالد بن محمد بن زايد يتسلم شعار مدينة الدراجات الهوائية من الاتحاد الدولي للدراجات، لتصبح أبوظبي أول مدينة في آسيا تحمل اللقب المرموق. وخلال حفل في جزيرة الحديريات، أطلق سموه منصة "بايك أبوظبي"، التي تشكل المحرك الأساسي لطموحات الإمارة في رياضة ركوب الدراجات على المدى الطويل. pic.twitter.com/g1UDnCv9vW

— مكتب أبوظبي الإعلامي (@admediaoffice) November 2, 2021
Many Abu Dhabi buildings lit up in celebration of the 'Bike City' designation.