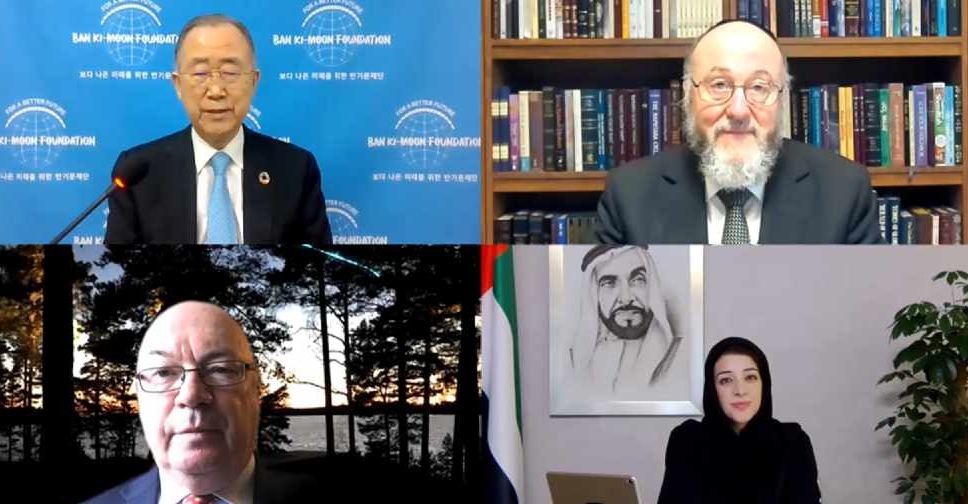 WAM
The UAE believes in the importance of dialogue and in shaping what this region could look like for many generations to come.
That's the message from Reem bint Ibrahim Al Hashemy, Minister of State for International Cooperation, who was speaking on the impact of the historic Abraham Accords for the UAE and Israel during a high-level online roundtable discussion.
The meeting, which explored the advancement of UAE-Israel, regional, and Muslim-Jewish cooperation, was hosted by the Emirates Society, the UK-based institution focussed on strengthening ties between the UK and the UAE on economic, political and cultural affairs.
''We are committed to a two-state solution in the Middle East that will fight extremism and that believes in plurality, multiculturalism, the right of minorities, and the opportunities that exist for young people by embracing technology, innovation, and economic empowerment,'' explained Al Hashemy.
Representing the UAE at the event, she spoke alongside Ban Ki-moon, the 8th UN Secretary-General, and Rabbi Ephraim Mirvis, Chief Rabbi of the United Hebrew Congregations of the Commonwealth.
Chairing the event was the Rt. Hon. Alistair Burt, former UK Minister of State for the Middle East and Chair of the Emirates Society.
Building on the positive impact the accords have had on the Gulf region, Al Hashemy noted that the event was a welcome step in continuing the discussion on how diplomacy and goodwill are central to a peaceful Middle East and showcase what is possible for not only the region, but the rest of the world.
The virtual event was attended by more than 100 high-level guests from the UAE, the UK and across Europe and the Middle East, drawn from government, civil service, the diplomatic corps, international think tanks, academic institutions, and media organisations.