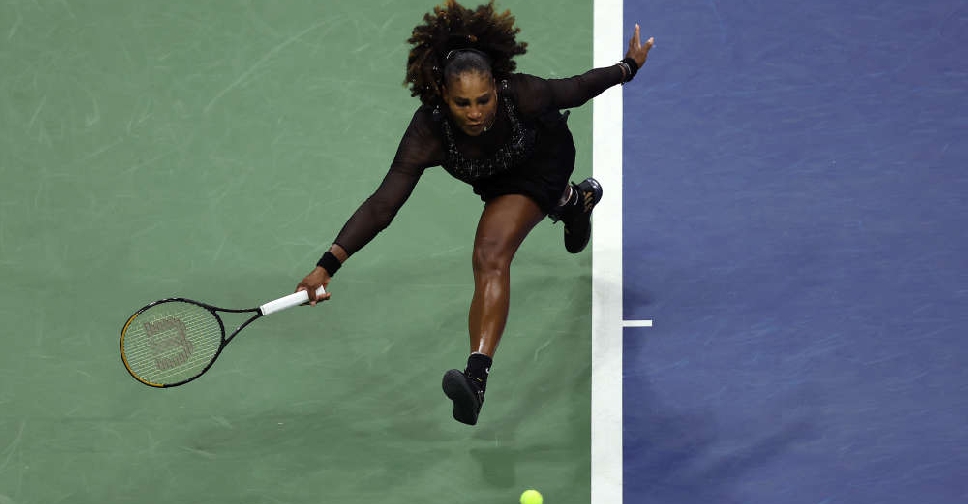 Getty images via AFP / Julian Finney
Serena Williams' defeat by Australia's Ajla Tomljanovic at the US Open on Friday is likely to be the last match of the 23-time Grand Slam champion's career.
A defiant Serena Williams bid an emotional good-bye to the U.S. Open with a third-round loss to Ajla Tomljanovic on Friday, in what may have been the last singles match of her glittering career.
Defeat has always been hard to swallow for the fiercely competitive Williams and no doubt the 7-5 6-7 (4) 6-1 loss to the 46th ranked Australian stung her to her core.
But after a joyous run into the third round there was no shame in a loss to the gritty Tomljanovic, allowing the 23-times Grand Slam winner to exit with dignity intact and head held high.
Her three matches, highlighted by a second-round win over world number two Anett Kontaveit, were a gift to her fans, the relentless never-surrender attitude that made her tennis' dominant player for over two decades on display right until the very final point.
"Clearly I'm still capable," Williams told reporters. "But it takes a lot more than that.
"I'm ready to be a mom, explore a different version of Serena.
"Technically in the world I'm still super young, so I want to have a little bit of a life while I'm still walking.
"I have such a bright future ahead of me."
Tomljanovic shared her reactions to the bittersweet victory over her idol.
"I'm feeling really sorry just because I love Serena just as much as you guys do. What she's done for me, for the sport of tennis, is incredible," she stated.
"I never thought I'd have a chance to play her in her last match when I remember watching her in all those finals, so this is a surreal moment for me," admitted Tomljanovic. "I thought she would beat me, so the pressure wasn't on me. Even to the last point, I knew she's in a position to win even when she's down 5-1. That's just who she is and she's the greatest of all time. Period."
Reaction to Williams' achievements has also poured in from sporting greats and the wider international community.
Former US First Lady Michelle Obama tweeted: "Congrats on an amazing career, @SerenaWilliams! How lucky were we to be able to watch a young girl from Compton grow up to become one of the greatest athletes of all time. I'm proud of you, my friend -- and I can't wait to see the lives you continue to transform with your talents."
While golfing legend Tiger Woods tweeted: ""@serenawilliams you're literally the greatest on and off the court. Thank you for inspiring all of us to pursue our dreams. I love you little sis!!!!!!"
FOUR-TIMES NBA CHAMPION LEBRON JAMES
Four-time NBA champion LeBron James said: "You're a GOAT. What you've done for the sport, what you've done for women ... is unprecedented. It was an honour to watch your journey, to watch you conquer all the goals you ever set, to see you break records, to see you just be amazing on the tennis court and also off it."
While American talk show host Oprah Winfrey said simply: "25 years. Champion. Shero. Legend forever!"