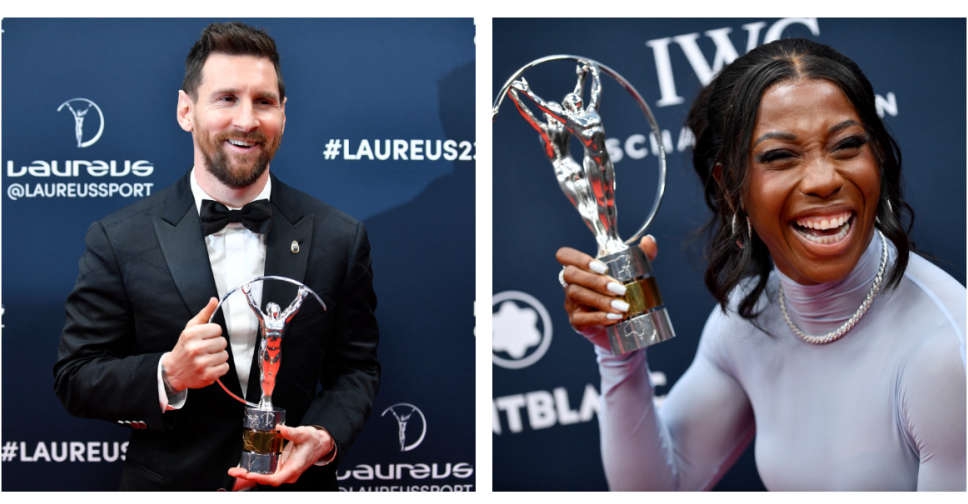 JULIEN DE ROSA/ AFP
Argentina's World Cup winning captain Lionel Messi was named the Laureus Sportsman of the Year, while sprint champion Shelly-Ann Fraser-Pryce bagged the top women's honour.
Messi also received an award on behalf of the Argentina men's football team, who were named World Team of the Year after their triumph at the 2022 World Cup in Qatar.
The 35-year-old Paris St Germain forward has previously won the award once before, sharing it with Formula One driver Lewis Hamilton in 2020.
Messi also became the first athlete to scoop both the World Sportsman of the Year Award and the World Team of the Year Award in the same year.
"I was looking at the names of the incredible legends that won the Laureus Sportsman of the Year Award before me: Schumacher, Woods, Nadal, Federer, Bolt, Hamilton, Djokovic… it really sunk in what unbelievable company I'm in and what a unique honour this is," Messi said.
Jamaican Fraser-Pryce enjoyed an outstanding 2022, which included winning the 100 m gold at the World Athletics Championships.
Tennis player Carlos Alcaraz, who won the 2022 US Open and rose to number one in the ATP rankings, was named the Laureus World Breakthrough of the Year.
Christian Eriksen, who recovered from the cardiac arrest he suffered at the European Championship in 2021 to return to Premier League football with Brentford and then Manchester United before competing at the World Cup with Denmark, received the Laureus World Comeback of the Year Award.
The Laureus World Sports Awards nominees are selected by the global media, while the winners are determined by the 71 members of the Laureus World Sports Academy.
The awards have been presented annually since their inception in 2000.
List of winners:
World Sportsman of the Year Award: Lionel Messi
World Sportswoman of the Year Award: Shelly-Ann Fraser-Pryce
World Team of the Year Award: Argentina Men's Football Team
World Breakthrough of the Year Award: Carlos Alcaraz
World Comeback of the Year Award: Christian Eriksen
World Sportsperson of the Year with a Disability Award: Catherine Debrunner
World Action Sportsperson of the Year Award: Eileen Gu
Laureus Sport for Good Award: TeamUp
What a night at the 2023 Laureus World Sports Awards 🏆📸#Laureus23 pic.twitter.com/K8s9Ed8bRf

— Laureus (@LaureusSport) May 9, 2023