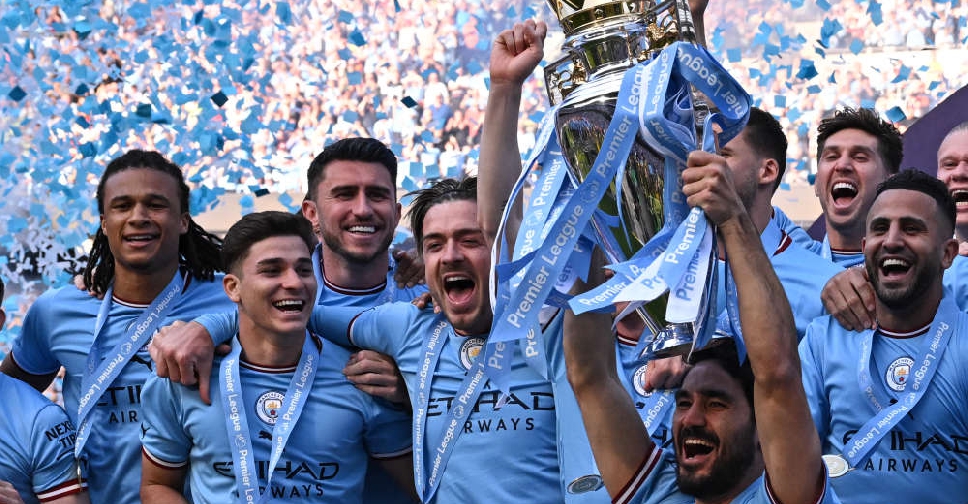 AFP
Manchester City celebrated their Premier League title success on Sunday, beating Chelsea 1-0 with an early goal by Julian Alvarez in the team's home finale at a sun-drenched Etihad Stadium.
Treble-chasing City, who wrapped up the title when second-placed Arsenal were beaten at Nottingham Forest on Saturday, have won 12 successive games in the top flight.
Forward Jack Grealish was asked if City, who were eight points behind Arsenal in late March, have felt invincible over the past few weeks.
"Yeah, we have. It's mad because I spoke to some of the lads and said imagine if someone had said that to win the league we would need to win 12 games in a row," Grealish told Sky Sports, with celebrations still going strong on the pitch behind him.
"I'm not saying I didn't think we could do it but it was going to be difficult, but we have so much talent in this squad and at the moment we just feel unstoppable."
City have 88 points from 36 matches, seven more than Arsenal who have just one match remaining. Frank Lampard's struggling Chelsea side are languishing in 12th spot with 43 points.
"It feels unreal right now, I'm so happy," said City's goal-scoring machine Erling Haaland, briefly ignoring the interviewer to dance.
"The memories I will have for the rest of my life, we have been fighting so hard."