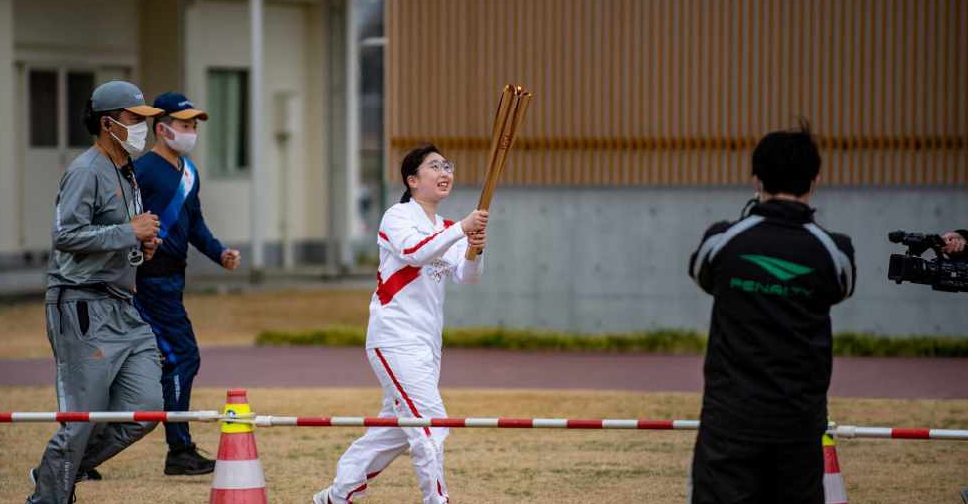 Philip FONG / AFP
With waves, smiles and high-fives, but no cheers, the Olympic torch relay set off on Thursday, beginning a four-month countdown to the postponed 2020 summer Games in Tokyo.
Casting a pall over celebrations already scaled back because of coronavirus prevention measures, North Korea launched two short-range ballistic missiles before the relay began in Fukushima, an area hit hard by the 2011 earthquake, tsunami and nuclear disaster.
"For the past year, as the entire world underwent a difficult period, the Olympic flame was kept alive quietly but powerfully," Tokyo 2020 president Seiko Hashimoto said at the opening ceremony, which was closed to spectators.
"The small flame did not lose hope, and just like the cherry blossom buds that are ready to bloom, it was waiting for this day," Hashimoto said.
With organisers billing the games as the "Recovery Olympics," a nod to the disaster as well as the pandemic, Thursday's runners included many who had fled after the meltdowns at the Fukushima Dai-ichi power plant.
Japan has fared better than most countries during the pandemic, with about 9,000 coronavirus deaths, but Tokyo reported 420 cases on Wednesday, the highest single-day figure this month.
The majority of the public is against the Olympics being held as scheduled, polls show.
Japanese Prime Minister Yoshihide Suga assured reporters the national government was cooperating with Tokyo and the International Olympic Committee to host a safe and secure Games.
"We will do our utmost in terms of coronavirus measures and continue to work with related areas to contain the spread of infections," Suga said.
About 10,000 runners will take part in the four-month relay, which will go through all of Japan's 47 prefectures.