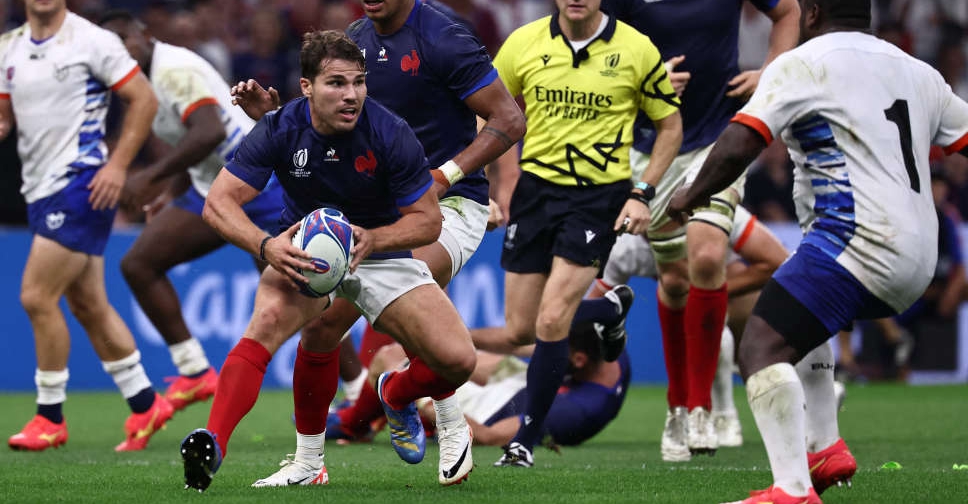 France were sweating on the condition of captain Antoine Dupont after the mercurial scrumhalf suffered a suspected jaw fracture during the hosts' record 96-0 victory against Namibia at the Rugby World Cup on Thursday.
"There is a suspicion of a crack or fracture of the maxillary bone," head coach Fabien Galthie said.
"He currently is in hospital, he's being tested, I can't tell you more than that. I'm staying connected and will tell you more if I hear from him. I'm writing to him now - live.
"We are never happy when a player gets injured. We are extremely concerned. It's not the same as if we'd had no injuries."
Dupont sustained the injury in the 46th minute in a head-to-head clash with Johan Deysel, whose initial yellow card was upgraded to a red.
The 26-year-old, voted best player in the world in 2021 and at the last two Six Nations, had his cheekbone iced before he walked off the field holding his jaw.
He then left the Stade de Marseille to undergo medical assessments.
France were already without their number one flyhalf Romain Ntamack for the World Cup after the Toulouse player suffered a knee injury in a warm-up test last month.
"There was an interception, we were regrouping then saw the images on the big screen and we understood," flanker Charles Ollivon said.
"It was late and to the head so it was quite clear. These things happen, unfortunately, but we stayed concentrated and went forward straight away. You don't have time to ponder things unfortunately."
France next face Italy in Pool A on October 6.