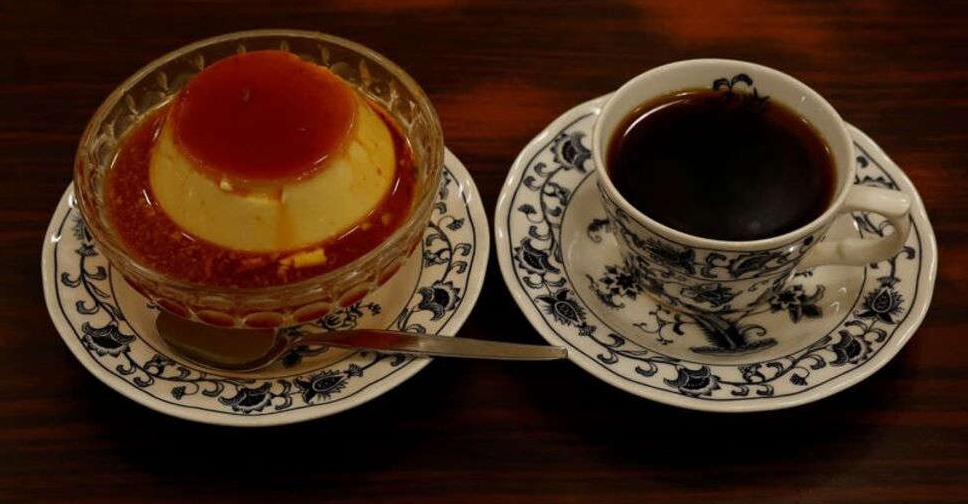 With a rapid, right-hand swoop, Shizuo Mori served the last of about 50 puddings on Wednesday, a treat that's made his tiny Tokyo coffee shop a destination for tourists flocking to Japan after the end of COVID restrictions.
Mori's trademark fling of the arm helps dislodge the eggy custard from its tin, and the circular motion is easier on his 80-year-old wrist than a snapping motion would be.
But the technique, developed over the half-century he's run the Heckeln coffee shop, has also earned him a worldwide audience via videos spread on TikTok, Facebook and other social media sites.
The lines out the door of Heckeln, midway up a narrow street in Tokyo's Toranomon district, are largely comprised of foreigners willing to wait for the "Jumbo Purin" topped with caramel.
Visitors to Japan maintained a "robust recovery" in February, the national tourism agency said on Wednesday. Arrivals totalled 1.47 million, surpassing 1 million for a third-straight month after COVID curbs were eased late last year, though still down 43 per cent from pre-pandemic levels.
Haitham, on a business trip from Abu Dhabi, was enticed by TikTok videos he'd seen of Mori, but arrived with his friend just a bit too late, finding a sign on the door that the puddings had sold out.
"I'm a big creme caramel fan, so I dragged my friend here to come and see him," said the 38-year-old. "And I was very disappointed, because it's finished, and it's not even 2:00 pm."
Sariel Wong, a tourist from Hong Kong who'd seen Mori's on Facebook, was luckier, getting his 400 yen ($2.96) pudding after an hour-long wait.
"In Hong Kong, there is a lot of pudding but not like this one," said Wong, 38. "It's a little bit smooth and not too sweet."
Mori thinks it's a little strange that his coffee shop has a queue out the door most days. He hears from his customers that he's famous on the internet, but he doesn't use social media and doesn't have a cell phone.
Like many restaurants, Mori and his 24-seat shop struggled through the pandemic, which kept away many of his traditional customers of students and office workers. And a surge in supply costs has been a double whammy, but Mori said he's held firm on his own prices.
It was a dark time, but probably the same all over the world, he said. But now the masks are coming off and he's happy to welcome his new fans from abroad.
"I'm happy, but there's one thing I regret," Mori said at then end of a lunch rush. "When people can't get in, and they have to return home without getting any pudding, it kind of pains me in my heart."