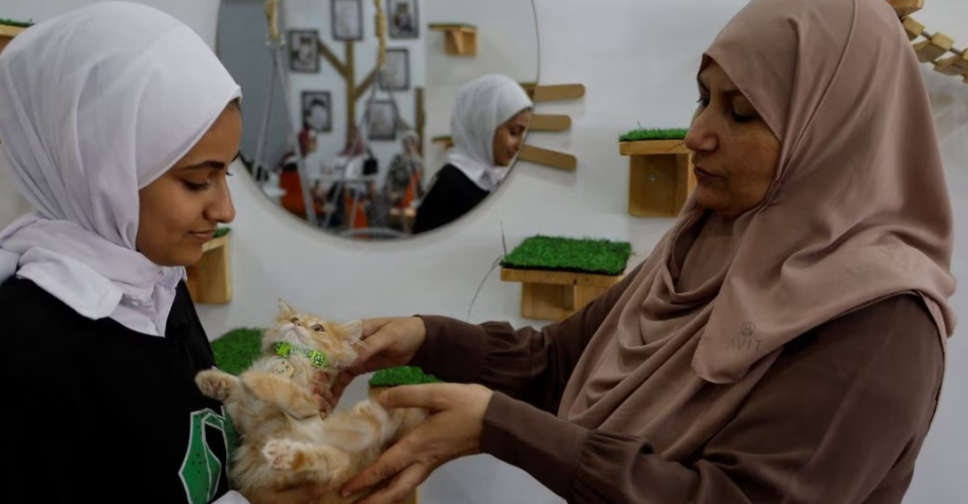 Inspired by her passion for the furry animal, Naeema Mea'bed opened the "MEOW Cat Cafe" in the Gaza Strip this week, hoping to bring cat lovers some joy, while boosting awareness over pet raising, which has become increasingly popular in the region.
The cafe, the first of its kind in Gaza, is entirely cat-themed, with mirrors and flower vases, as well as posters of the 14 resident cats that are available for guests, adults or children, to play with.
On Sunday, a long queue of hopeful customers formed, spurring Mea'bed to set up more tables and seats for families who had brought their children along for the feline experience, costing $1.30 per half hour.
Parents are able to sit and observe their children play with the cats through a glass partition as they sip their coffee.
"The idea came from my childhood passion for cats since and I wanted to pass it on to people," said Mea'bed.
Cats, she said, are a "natural anti-depressant".
"Many people like cats but they don't know where to keep them or where to play with them, so I made this place for them, where they can come, be happy and relieve their stresses, even for just five minutes and then leave happily," she said.
The cafe is home mainly to Persian cats, but also Turkish angora and hybrid felines.
For Hala Abu Maghaseeb, 14, who has so far not convinced her parents to get her a pet cat, the cafe was a pleasant and welcome surprise during her summer school break.
"It is a nice project, I come to release stress. I love cats," she said.