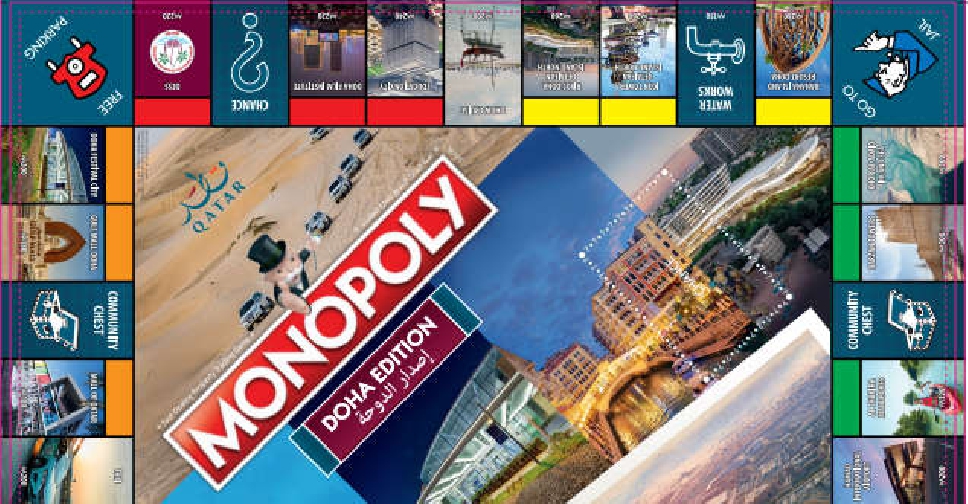 The first dual-language MONOPOLY board game in the region brings out the incredible authenticity, culture and future of Doha to the world.
MONOPOLY's DOHA board version is tailored for Qataris, Doha residents, and tourists to enjoy playtime with family and friends.
"Building this board has been a wonderful insight into the city's history and future. The beauty and culture match the diversity, creativity and ambition. Doha is a vibrant place with picturesque views and endless things to explore. I know we've captured the essence of the city, and the game reflects that so people can experience it in all its splendour," said Robert Osborne, EMEA Territory Manager of Winning Moves – manufacturers of the official MONOPOLY DOHA Edition.
"It'll be our pleasure to welcome Mr Monopoly to Doha and to help him experience everything this incredible destination has to offer. The Doha MONOPOLY board will be the perfect keepsake for visitors, as it promises to showcase the very best experiences and varied landscapes for players to enjoy at home, long after their trip," Chief Operating Officer of Qatar Tourism, Berthold Trenkel.
Some of the highlighted areas in the board include:
• Brown square – Katara Cultural Village and Aspire Park.
• Light Blue square – Museum of Islamic Art, 3-2-1 Qatar Olympic and Sports Museum, National Museum of Qatar by Qatar Museums.
• Pink square – Doha Golf Club, 365 Adventures and Souq Waqif.
• Orange square – Mall of Qatar, Gulf Mall Doha and Doha Festival City.
• Red square – Doha English Speaking School, Doha Film Institute and Education City by Qatar Foundation.
• Yellow square – Rixos Doha and Icon Tower by Qetaifan Island North, and Banana Island Resort Doha by Anantara.
• Green square – Inland Sea, Barzan Towers and Al Thakira Mangroves.
• Dark Blue square – Corniche, The Pearl-Qatar at Qanat Quartier by UDC Qatar.
• Travel square – Gulf Helicopters, Metro, Dhow Cruise and Hamad International Airport.
• Leading authorities supporting the board – Qatar Tourism Authority.