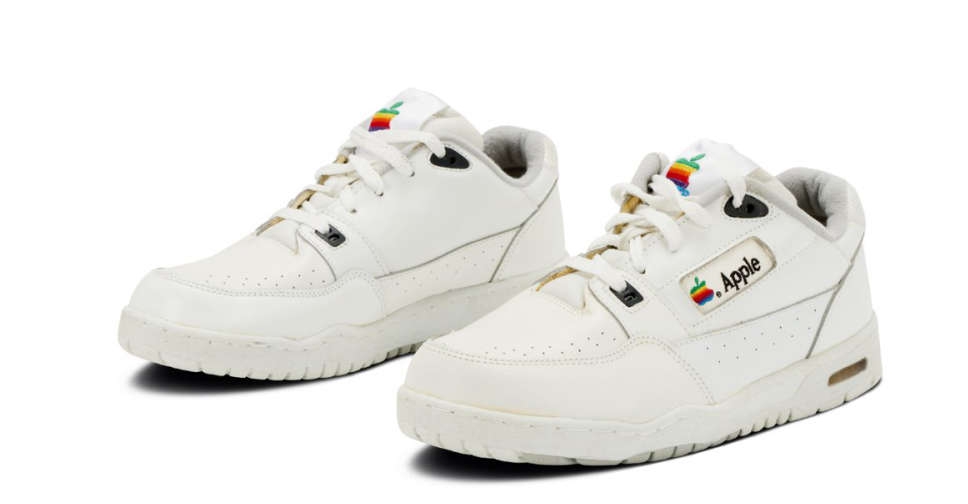 Sotheby's, the renowned auction house, is offering a unique and "ultra-rare" pair of Apple sneakers for a staggering $50,000, a price tag higher than any of the current Apple tech products.
The sneakers, complete with the iconic rainbow Apple logo on the tongue and side, were originally custom-made for Apple employees as an exclusive giveaway during a National Sales Conference in the mid-1990s.
According to Sotheby's catalogue, these sneakers have never been made available to the general public, making them one of the most obscure and sought-after Apple collectibles. The auction house has described the sneakers as a true piece of Apple's history and innovation.
In 1986, Apple introduced "The Apple Collection," a line of clothing and accessories featuring the iconic rainbow Apple logo. The collection included items like mugs, umbrellas, bags, keyrings and even a sailboard, all adorned with the distinctive logo. Additionally, Apple sold "white label products" in the previous year, such as shirts manufactured by third-party companies like Lamy, Honda, or Braun, but sold under the Apple brand.
The sneakers, a size 10.5, are in pristine condition, presented in their original box, and come with an extra pair of red laces. However, due to their age, there are signs of wear, including yellowing around the midsoles, traces of glue, and light marks on the toe boxes.
Interestingly, this particular pair of Apple sneakers is not the first vintage Apple product to fetch an astronomical sum in recent times. In a previous auction, a first-edition 2007 iPhone sold for an astounding $190,000, far surpassing the auctioneer's initial estimate. Moreover, a pair of old Birkenstock sandals once owned and worn by the late Apple co-founder, Steve Jobs, secured a jaw-dropping $200,000 at an auction held in November 2022.