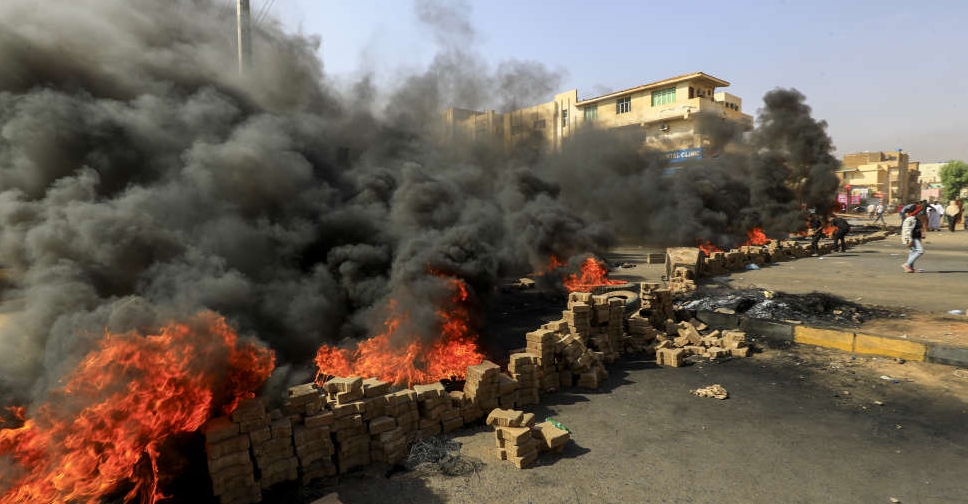 AFP
Roads were blocked, shops were shut, phones were down and mosque loudspeakers blared calls for a general strike in Sudan on Tuesday, a day after the army seized power in a coup that triggered unrest in which at least seven people were killed.
Plumes of smoke rose over Khartoum from tyres set ablaze by protesters. Life came to a halt in the capital and in its twin city Omdurman across the Nile, with roads blocked either by soldiers or by protester barricades.
The night appeared to have passed comparatively quietly after Monday's unrest, when protesters took to the streets after soldiers arrested Prime Minister Abdalla Hamdok and other civilians in the cabinet. A health ministry official said seven people had been killed in clashes between protesters and the security forces.
On Monday, takeover leader General Abdel Fattah al-Burhan dissolved the military-civilian Sovereign Council set up to guide Sudan to democracy following the overthrow of long-ruling autocrat Omar al-Bashir in a popular uprising two years ago.
Burhan announced a state of emergency, saying the armed forces needed to protect safety and security. He promised to hold elections in July 2023 and hand over to an elected civilian government then. On Tuesday he dissolved committees that govern trade unions, Arabic news channels reported.
The Sudan information ministry, still loyal to Hamdok, has called the takeover a crime and said Hamdok is still the legitimate leader.
Hamdok and his missing cabinet members were still being held in an unknown location, the foreign minister of the ousted government said in a message posted on the information ministry's Facebook page on Tuesday.
Main roads and bridges between Khartoum and Omdurman were closed to vehicles by the military. Banks and cash machines were shut, and mobile phone apps widely used for money transfers could not be accessed.