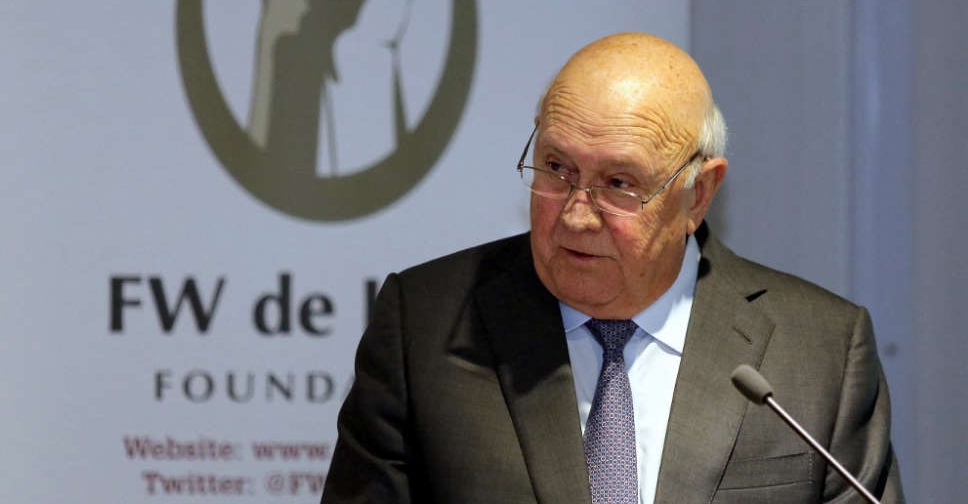 JENNIFER BRUCE / AFP
South Africa's former president Frederik Willem (FW) de Klerk, who negotiated a peaceful transfer of power to a government under Nelson Mandela, died on Thursday aged 85 after a battle with cancer.
De Klerk won praise worldwide for his role in scrapping apartheid and he shared the Nobel Peace Prize with Mandela in 1993.
The following year Mandela won South Africa's first multi-racial elections with his African National Congress (ANC).
In a message of condolence, President Cyril Ramaphosa paid tribute to de Klerk's "vital role" in South Africa's transition to democracy in the 1990s.
"He took the courageous decision (as president) to unban political parties, release political prisoners and enter into negotiations with the liberation movement amid severe pressure to the contrary from many in his political constituency," Ramphosa said.
Mandela's foundation said in a separate statement that de Klerk would "forever be linked to Nelson Mandela in the annals of South African history".
However, de Klerk's role in the transition from minority white rule to democracy remains highly contested.
Many Blacks were angered by his failure to curb political violence in the turbulent years leading up to the 1994 elections, while right-wing white Afrikaners, who had long ruled the country under de Klerk's National Party, viewed him as a traitor to their causes of white supremacy and nationalism.
De Klerk's foundation said he had died peacefully at his home in Cape Town on Thursday morning after a battle with mesothelioma, a cancer that affects the tissue lining the lungs.
"He is survived by his wife Elita, his children Jan and Susan and his grandchildren," it said, adding the family would in due course announce the funeral arrangements.