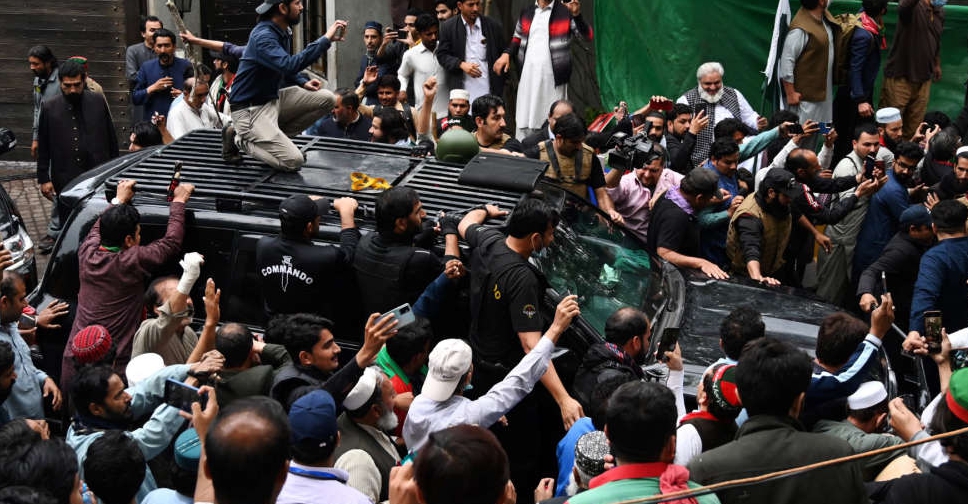 AAMIR QURESHI/ AFP
Pakistan's former Prime Minister Imran Khan officially marked his presence in court in the country's capital on Saturday, his aide said, complying with judicial orders after a standoff with police.
Khan, in office from 2018 to 2022, is facing a spate of legal challenges, including one that prompted a failed attempt to arrest him on Tuesday, sparking clashes between supporters and police, which also took place on Saturday.
Khan's aide Fawad Chaudhry told Reuters the former premier's presence had been recorded officially by the court and he had left to return to his home in the city of Lahore.
According to local media, Khan's vehicle reached the judicial complex in Islamabad amidst clashes between police and his supporters.
They reported that, given the chaos around the complex, he was unable to physically enter the courtroom, and was ultimately allowed by the judge to sign his presence from his vehicle.
He was ordered to address charges in court on Saturday of unlawfully selling state gifts given to him by foreign dignitaries while in office.
Khan says he followed legal procedures in acquiring the gifts.
Earlier in the day, police had entered Khan's home in Lahore after he left for his court appearance in Islamabad and arrested several of his supporters over allegations of attacks against officers during clashes earlier in the week.
Another Khan aide, Shireen Mazari, said police had broken down the front gate of Khan's home.
In Islamabad, the police chief told local broadcaster Geo News that Khan's supporters had attacked police near the court and fired teargas shells, prompting police to fire more teargas back.
Prime Minister Shehbaz Sharif took to Twitter to criticise Khan, saying he was using people as human shields and was attempting to intimidate the judiciary.
Khan has led nationwide protests since his ouster from power last year and has had a spate of cases registered against him.
Earlier this week, police and Khan's supporters clashed outside his home during the arrest attempt.
Hours before leaving his home, the former cricket star told Reuters he has formed a committee to lead his party, the Pakistan Tehreek-e-Insaf (PTI), if he is arrested.