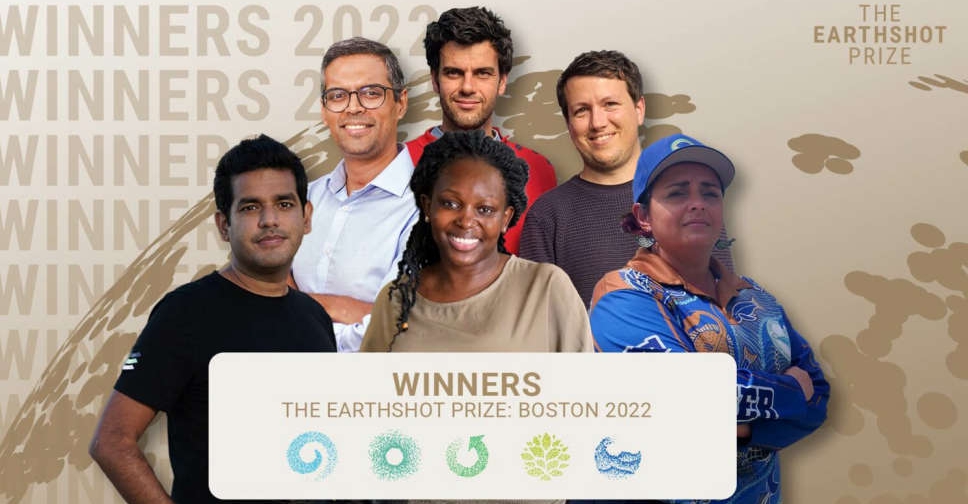 Earthshot website
Prince William announced five winners of the 2022 Earthshot Prize – entrepreneurs and innovators spearheading ground-breaking solutions to repair and regenerate the planet.
The annual awards were created by Prince William to fund projects that aim to save the planet, now in their second year.
Each winner will receive $1.2m to develop their innovation.
Prince William announced the winners on Friday at an awards ceremony in Boston in the US.
Each year, five winners are selected for their ground-breaking solutions to five of the greatest environmental challenges facing our planet.
This years' winners are;
Fix our Climate: 44.01, Oman – Created by childhood friends who have developed an innovative technique to turn CO2 into rock, and permanently store it underground.
Clean our Air: Mukuru Clean Stoves, Kenya – A start-up providing cleaner-burning stoves to women in Kenya to reduce unhealthy indoor pollution and provide a safer way to cook.
Protect and Restore Nature: Kheyti, India – A pioneering solution for local smallholder farmers to reduce costs, increase yields and protect livelihoods in a country on the frontlines of climate change.
Revive our Oceans: Indigenous Women of the Great Barrier Reef, Australia – An inspiring women led program that combines 60,000 years of indigenous knowledge with digital technologies to protect land and sea.
Build a Waste-free World: Notpla, United Kingdom – A circular solution creating an alternative to plastic packaging from seaweed.
Over 1000 applications from around the world were considered, with 15 finalists from 10 countries chosen through a selection process supported by an expert advisory panel.
All 15 Finalists who featured in the ceremony will receive tailored support from The Earthshot Prize Global Alliance, an unrivalled network of world-leading philanthropies, NGOs, and private sector businesses around the world who will help scale their solutions.
The Earthshot Prize is looking forward to nominations for next year's 2023 Prize which open on Monday on December 5, 2022.