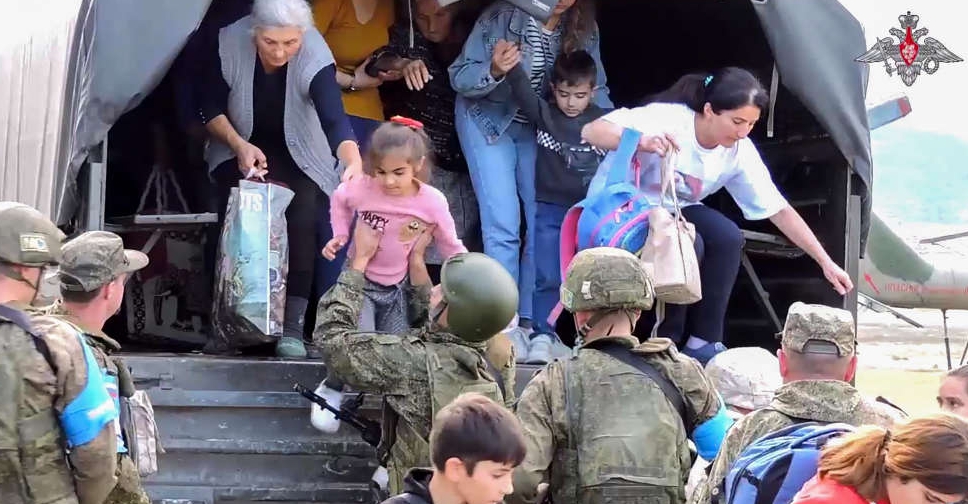 Azerbaijan said on Thursday that Armenians from Nagorno-Karabakh had arrived for talks after the breakaway region was forced into a ceasefire that stoked calls for the resignation of Armenian Prime Minister Nikol Pashinyan.
The Armenian delegation from Karabakh arrived in the town of Yevlakh for talks, Azerbaijan's presidency said. Ramin Mammadov represented the Azeri side, local media reported.
Azerbaijani President Ilham Aliyev declared victory over the mountainous region on Wednesday, saying his "iron fist" had consigned the idea of a separatist Armenian Karabakh to history after a lightening 24-hour military operation.
Under the ceasefire agreement, as outlined by Azerbaijan, breakaway Armenian forces must disband and disarm, and the region will be integrated as part of Azerbaijan.
"The Armenian population of Karabakh can finally breathe a sigh of relief. I said this before, and I want to repeat it: the Armenian population of Karabakh are our citizens," Aliyev said in an address to the nation on Wednesday night.
He added that "war criminals" had tried to poison the brains of 120,000 Karabakh Armenians, who, he said, would now live in paradise.
But thousands of Armenians massed at the airport in Stepanakert, the capital of Karabakh known as Khankendi by Azeris. Others took shelter with Russian peacekeepers in the hope of being flown out.
Azerbaijain's claim of victory over the region ushers in yet another twist to the tumultuous history of mountainous Nagorno-Karabakh, which over the centuries has come under the sway of Persians, Turks, Russians, Ottomans and Soviets.
Known as Artsakh by Armenians, the territory is internationally recognised as part of Azerbaijan, but its inhabitants are predominantly ethnic Armenians.