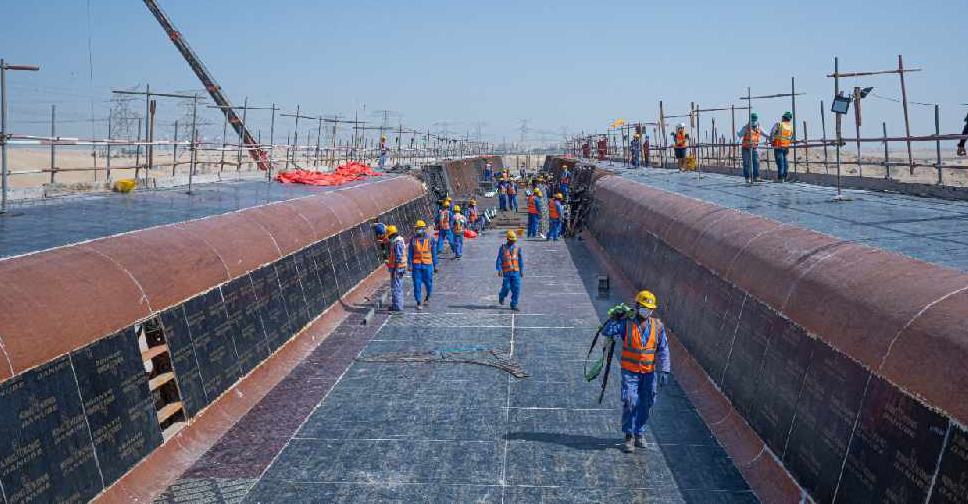 Etihad Rail
The latest progress meeting of the UAE's national rail network has been told that 25 per cent of the building work at Al Faya's Operations and Maintenance facility has been completed. 
The Etihad Rail Board of Directors have been reviewing Stage Two of the project for the first quarter of 2021 at a virtual session.
The board also recognised the signing of the first commercial agreement in this phase, on the transfer of an estimated 3.5 million tonnes of construction material from Ras Al Khaimah to Abu Dhabi.
Addressing the meeting, His Highness Sheikh Theyab bin Mohamed bin Zayed Al Nahyan, Chairman of the Abu Dhabi Crown Prince's Court and Chairman of Etihad Rail, expressed his appreciation to the continuous and unlimited support of the UAE's leadership for the project.
He expressed his pride in the virtual talks coinciding with the beginning of the UAE's 'Year of the 50th' celebrations.
Sheikh Theyab reiterated that the forefront priorities are, and always have been, constructing national infrastructure, investing in Emirati talent, and powering the nation's economy.
The Chairman added that these accomplishments will drive the country towards achieving economic success in the next five decades.
The Al Faya facility in Abu Dhabi will be the largest and the most significant operations unit on the network.
It will be responsible for warehousing, installations and the maintenance of trains and wagons.
The facility will also include an administrative building to control the operations of the whole network.
The board emphasised that the project's development must be in line with international best practice, particularly implementing health and safety for all construction workers.
برئاسة سمو الشيخ ذياب بن محمد بن زايد آل نهيان رئيس ديوان ولي عهد أبوظبي، رئيس مجلس إدارة شركة الاتحاد للقطارات، عقد مجلس إدارة الشركة اجتماعاً عن بُعد pic.twitter.com/7PtfThnjcs

— Etihad Rail (@Etihad_Rail) April 13, 2021