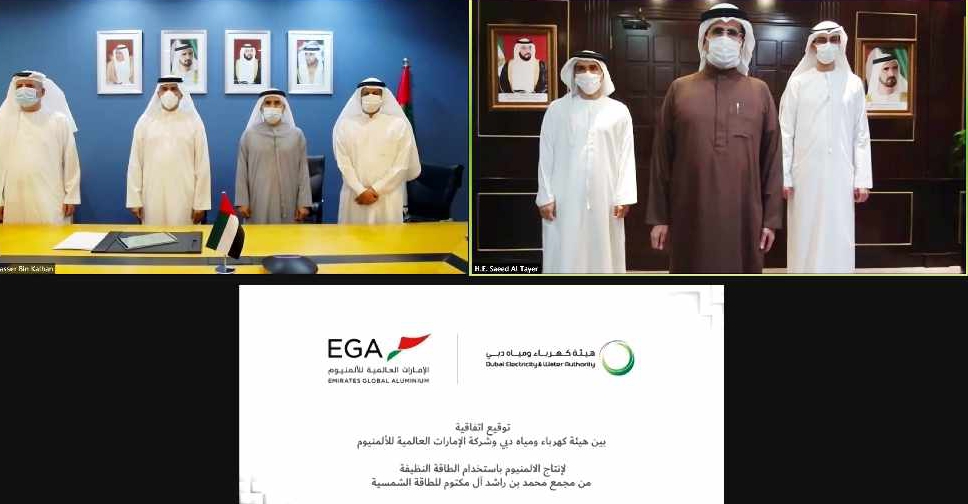 Supplied
Dubai Electricity and Water Authority (DEWA) and Emirates Global Aluminium (EGA) have joined hands to make the UAE the first country in the world to produce aluminium using the power of the sun.
The two sides have signed an agreement under which DEWA will supply EGA's smelter with solar power from the Mohammed bin Rashid Al Maktoum Solar Park.
Around 560,000 megawatt hours of solar power will be supplied annually, which is sufficient to make 40,000 tonnes of aluminium in the first year with the potential for significant expansion.
EGA will supply solar aluminium to global customers under the new product name CelestiAL.
The initiative supports the vision of His Highness Sheikh Mohammed bin Rashid Al Maktoum, Vice President and Prime Minister of the UAE and Ruler of Dubai, to make Dubai the most sustainable city in the world and become a global leader in the development and application of scientific and technological advances in the energy sector.
The agreement was signed remotely by Saeed Mohammed Al Tayer, Managing Director and CEO of DEWA and Vice Chairman of Emirates Global Aluminium (EGA), and Abdul Nasser bin Kalban, CEO of EGA, in the presence of Abdullah bin Kalban, Managing Director of EGA, Walid Salman, Executive Vice President for Business Development and Excellence at DEWA and a number of officials from both sides.
في إنجاز جديد لشركة الإمارات العالمية للألمنيوم وهيئة كهرباء ومياه دبي، #الإمارات أول دولة في العالم تنتج الألمنيوم باستخدام الطاقة الشمسية بما يتماشى مع رؤية محمد بن راشد لجعل دبي المدينة الأكثر استدامة على مستوى العالم. @DEWAOfficial pic.twitter.com/ZzBJrapotW

— Dubai Media Office (@DXBMediaOffice) January 18, 2021
Aluminium is used in products and infrastructure from smartphones to skyscrapers.The availability of solar power on the scale needed for aluminium smelting has been made possible by the UAE's significant investment in solar power, including in Dubai by DEWA and its Independent Power Producer (IPP) partners.
The Mohammed bin Rashid Al Maktoum Solar Park, located in Dubai, has a current installed capacity of 1,013 megawatts using photovoltaic solar panels. DEWA is implementing an additional 1,850 megawatts of projects using solar panels and Concentrated Solar Power (CSP). Eventually, this capacity will reach 5,000MW by 2030.
EGA's sourcing of solar power from Dubai's electricity grid will be tracked and traced through the use of the International Renewable Energy Certification System, ensuring that the energy used to produce EGA's CelestiAL solar aluminium has been sourced from the sun.
EGA and @DEWAOfficial join hands to make the #UAE the world's first country to produce aluminium using solar power. Milestone aligned with @HHShkMohd's vision to make Dubai one of the most sustainable city in the world. pic.twitter.com/LEd7bi5rse

— Dubai Media Office (@DXBMediaOffice) January 18, 2021