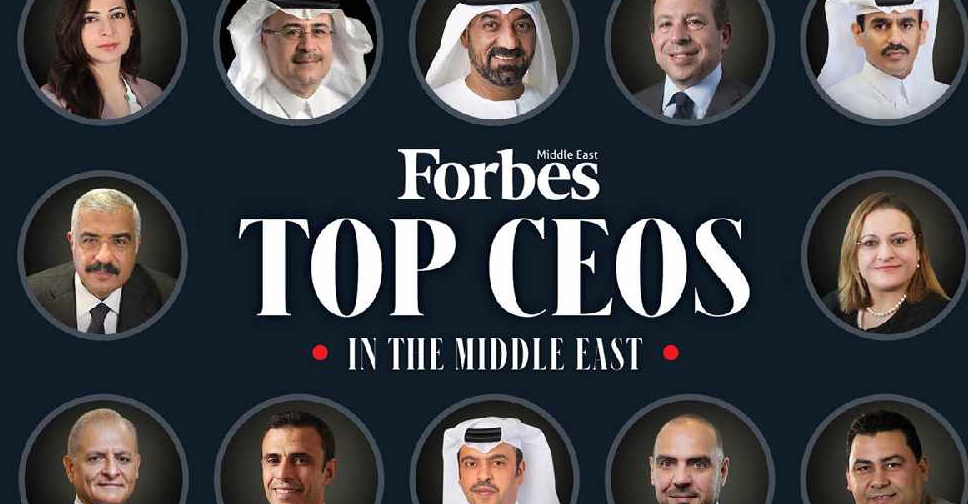 Supplied
Emirates Group's Ahmed bin Saeed Al Maktoum, ADNOC Group's Sultan Ahmed Al Jaber and Dubai Airports' Paul Griffiths have found their place in Forbes' top 10 CEO list.
According to Forbes, the inaugural list of the "Top CEOs in the Middle East" ranking, celebrates business leaders who are strategically spearheading growth, both in the workplace and their industries, while making significant contributions to the region's economies.
Despite the challenges posed by the pandemic, these executives have demonstrated that agility and adaptability are the keys to survive and thrive. While some are scaling large family businesses; others are responsible for government-owned companies.
Forbes said it assessed the size of the CEO's company using various measures, the individual's accomplishments over the past year, and their impact on their firm and the wider industry.
The list handpicks 100 CEOs, who represent 24 nationalities and 21 sectors.
Saudi nationals have dominated the list with 18 entries, followed by Emirati and Egyptian leaders with 16 entries each.
Four out of the top five are from the region's COVID-resilient oil & gas industry - Aramco's Amin H. Nasser; ADNOC Group's Sultan Ahmed Al Jaber; Kuwait Petroleum Corporation's Hashem Hashem; and Sonatrach's Toufik Hakkar.
With 29 listees, the banking and financial services sector contributes nearly a third of the ranking. Abdulla Mubarak Al-Khalifa, Group CEO of Qatar National Bank, stands as the Middle East's top banking and financial services executive. Notable newcomer, Hana Al Rostamani, ranks 19th on the list. The Emirati began her role as FAB's new Group CEO in late January 2021, having previously served as deputy group CEO and head of personal banking.
Here are the top 10 CEOs in the Middle East 2021
Amin H. Nasser
Nationality: Saudi
President & CEO, Saudi Aramco
Sultan Ahmed Al Jaber
Nationality: Emirati
Group CEO, ADNOC Group
Ahmed bin Saeed Al Maktoum
Nationality: Emirati
Chairman & CEO, Emirates Group
Hashem Hashem
Nationality: Kuwaiti
Deputy Chairman & CEO, Kuwait Petroleum Corporation
Toufik Hakkar
Nationality: Algerian
Chairman & CEO, Sonatrach
Saad Sherida Al-Kaabi
Nationality: Qatari
Deputy Chairman, President & CEO, Qatar Petroleum
Yousef Abdullah Al-Benyan
Nationality: Saudi
Vice-Chairman & CEO, SABIC
Abdulla Mubarak Al-Khalifa
Nationality: Qatari
Group CEO, QNB
Paul Griffiths
Nationality: British
CEO, Dubai Airports
Osama Mounier Mohamed Rabi
Nationality: Egyptian
Chairman & Managing Director, Suez Canal Authority