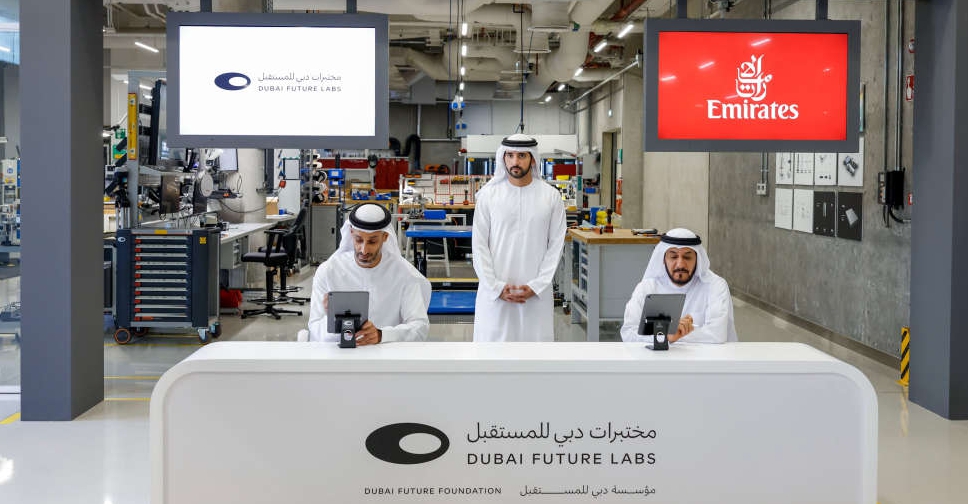 @DXBMediaOffice/ Twitter
The Dubai Future Labs (DFL), an initiative of Dubai Future Foundation (DFF), has signed an agreement with Emirates Airline, DP World, and dnata.
The trio of agreements aim to deploy advanced future technologies across aviation and logistics – two vital non-oil sectors for Dubai and the UAE.
These national partnerships aim to activate the Dubai Robotics and Automation Programme that was launched last September to boost the development, testing and adoption of robotics and automation (R&A) and accelerate its deployment in key economic sectors.
The Programme focuses on advancing research and development (R&D) in five main areas in the sector – Production and Manufacturing; Consumer Services and Tourism; Healthcare and Connected Mobility; and Logistics.
It aims to transform Dubai into one of the top 10 global cities for robotics and automation by adopting and developing robotics technologies, empowering national talent and creating new solutions, products and services to drive the sector's growth.
His Highness Sheikh Hamdan bin Mohammed bin Rashid Al Maktoum, Crown Prince of Dubai, Chairman of The Executive Council of Dubai and Chairman of the Board of Trustees of the Dubai Future Foundation, witnessed the signing of the agreements.
I witnessed the signing of agreements between DFF's Dubai Future Labs, Emirates, DP World and Dnata to deploy future technologies to drive innovation in our aviation and logistics sectors. We continue to advance Dubai's leadership in robotics and automation technologies pic.twitter.com/Ovn73ZTa2k

— Hamdan bin Mohammed (@HamdanMohammed) December 4, 2022
Under the MoU with Emirates Airline, Dubai Future Labs will facilitate various innovative pilot projects including a robot check-in agent that leverages facial recognition and interacts with passengers as well as a robot waiter serving in airport lounges.
The introduction of these unique services will enhance customer satisfaction by making the passenger's airport experience more seamless.
Emirates is also redoubling efforts to overhaul its warehouse management system by deploying automated solutions.
DFF's Dubai Future Labs will work alongside dnata to research, develop and trial innovations to further improve safety, efficiency and sustainability across the company's ground handling and cargo operations at Dubai International (DXB) and Dubai World Central (DWC) airports.
According to the MoU signed between the two organisations, Dubai Future Labs will support dnata in automating and converting its fleet into electric ground support equipment (GSE) and deploying robots to maximise operational and environmental efficiency.
The partnership will also support dnata in achieving its strategic objectives and reducing its carbon footprint by 50% by 2030.
Driven by the vision of becoming the core engine of Dubai's innovation ecosystem, Dubai Future Labs runs state-of-the-art robotics and AI applied research projects that have the potential to have a global impact and raise Dubai's future readiness.
Through its scientists, engineers and industry experts, Dubai Future Labs acts a consultant to the government, advising on technological challenges that various sectors could face in the future.