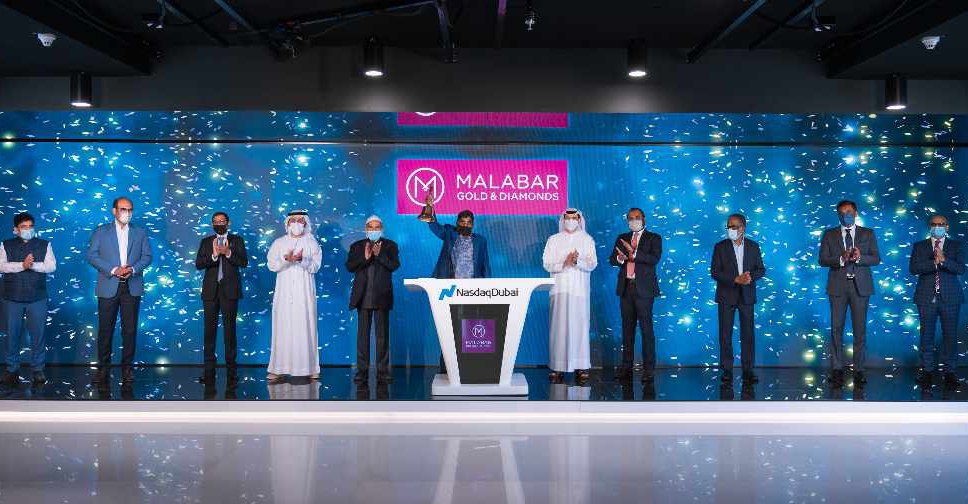 @DXBMediaOffice/ Twitter
Malabar Investments, the international investment arm of Malabar Gold & Diamonds has shifted its base to Dubai International Financial Centre (DIFC).
The group has also registered the shares of its international operations with Nasdaq Dubai's Central Securities Depository (CSD).
The latest move enables its 300+ shareholders from international operations to buy and sell shares with the approval of the Board of Directors through brokerage companies like Emirates ENBD Securities.
It's a significant step that strengthens Malabar's links with investors and provides the company with a transparent, well-regulated, efficient and secured solution for its share-related corporate actions.
Transfers of ownership will take place securely in Nasdaq Dubai's Central Securities Depository (CSD), while trading will take place off-exchange as the company remains privately held.
To celebrate the latest development, Malabar Group's Chairman Mr. M. P. Ahammed rang Nasdaq Dubai's market opening bell, in the presence of
Malabar Gold & Diamonds redomiciles to Dubai International Financial Centre (DIFC) and joins Nasdaq #Dubai's Private Market https://t.co/DMWKfI9Opj pic.twitter.com/70z60ax3cZ

— Dubai Media Office (@DXBMediaOffice) June 14, 2021
"The world-class business environment of DIFC as well as the infrastructure and regulations of Nasdaq Dubai have been a key success factor in continuously attracting numerous leading businesses from across the globe whether to set up new companies, redomicile their current activities or implement their capital market transactions, said Essa Kazim, Governor of the DIFC and Chairman of the Dubai Financial Market (DFM).
Malabar Gold and Diamonds currently generates annual turnover of US$4.51 billion through an extensive network of over 260 outlets and 14 wholesale units and 14 jewellery manufacturing centres across 10 countries in the Middle East, South Asia, Far East and USA.
Commenting on the latest milestone, MP Ahammed, Chairman of Malabar Group, said: "As Malabar Gold & Diamonds continues to grow internationally, it has become imminent that the holding company be based in a jurisdiction like Dubai International Financial Centre (DIFC) with high international standards of transparency, regulations and compliance."
"The Board has also recognised the requirement of having an independent regulated authority as the registrar of shares (being Nasdaq Dubai) with share transfer occurring through a more formalised and transparent process," he added.