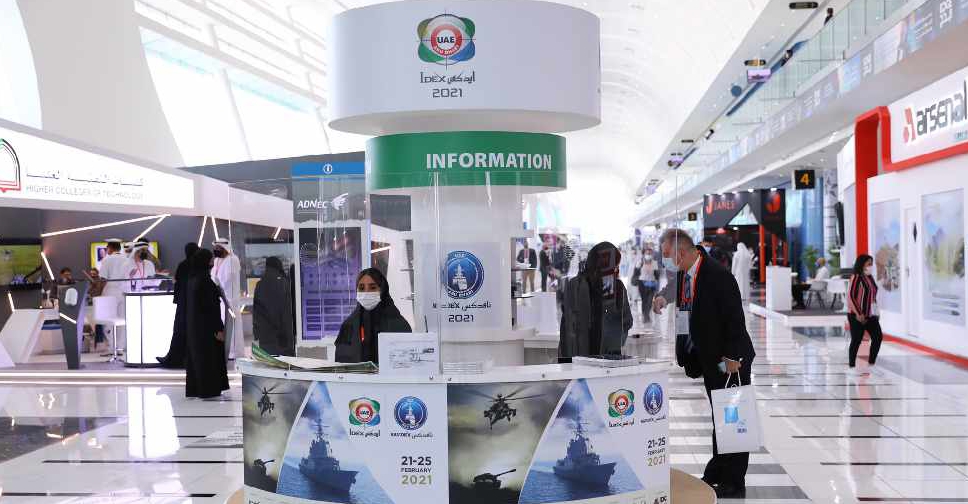 @IDEX_UAE/ Twitter
The 15th edition of the International Defence Exhibition (IDEX) and the Naval Defence Exhibition (NAVDEX) concluded in Abu Dhabi on Thursday.
They are the first global defence exhibitions to take place in the post pandemic recovery stage, and attracted 62,445 attendees across five days.
As many as 900 exhibitors, 59 countries, and 35 international pavilions participated in IDEX and NAVDEX, including five countries that attended for the first time: Israel, North Macedonia, Luxembourg, Portugal, and Azerbaijan.
More than AED 20.95 billion (US$5.7 billion) worth of deals were signed by the UAE Armed Forces over the course of the five-day event.
Contracts worth AED 904.2 million (US$246.2 million) were awarded on the final day on Thursday. Five of them were inked with international companies, while 15 deals were signed with local firms.
"These events continue to strengthen their global position, providing exhibitors and participants from around the world with an integrated global platform, in spite of the challenges imposed by the COVID-19 pandemic. IDEX and NAVDEX drive and enable innovation, in line with the rapid development of the fourth industrial revolution," said Major General Pilot Faris Khalaf Al Mazrouei, Commander-in-Chief of Abu Dhabi Police, Chairman of the Higher Organising Committee for IDEX and NAVDEX.
The #IDEX & #NAVDEX exhibitions contribute to enhancing communication and coordination channels with stakeholders in the vital defense industries sectors, as well as shedding light on modern technologies and the future of defense and security sectors at regional and global levels pic.twitter.com/d8SmdrAYTT

— IDEX (@IDEX_UAE) February 25, 2021