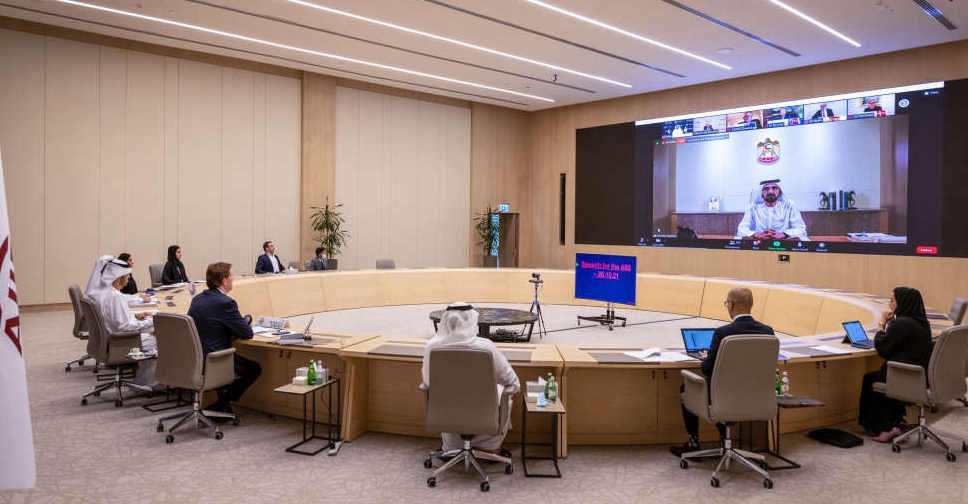 @DXBMediaOffice/ Twitter
His Highness Sheikh Mohammed bin Rashid Al Maktoum, Vice President and Prime Minister of the UAE and Ruler of Dubai, opened the sixth annual Asian Infrastructure Investment Bank's (AIIB) Board of Governors Meeting on Tuesday.
The meeting, which is being chaired by the UAE is being held virtually from October 26-28, under the theme 'Investing Today, Transforming Tomorrow'.
It has brought together 103 members as well as the Bank's strategic partners from around the world.
His Highness delivered the keynote address of the event and welcomed attendees saying the meeting provides a platform to enhance economic collaboration between nations.
. @HHShkMohd opens the 6th Annual Asian Infrastructure Investment Bank (AIIB) Board of Governors Meeting. The meeting is chaired by the #UAE and brings together 103 members & strategic partners. @AIIB_Official pic.twitter.com/JnHfl4qJuJ

— Dubai Media Office (@DXBMediaOffice) October 26, 2021
The meeting, which is being held for the first time in the Middle East, focuses on a number of key themes, including investing in the infrastructure for tomorrow such as cross-border connectivity; green financing; resilient healthcare systems; and enhancing the role of global multilateral institutions in supporting projects based on Environmental, Social and Governance (ESG) principles.
Dr. Sultan Al Jaber, UAE Minister of Industry and Advanced Technology and the UAE's Governor on the AIIB Board of Governors, said this year's meeting comes at a historic moment when the UAE is hosting Expo 2020, and the world is showing increased commitment for taking effective climate action.
He added that there is clear alignment between the AIIB's mandate and the UAE's vision, including the 'Principles of the 50' and the 'UAE Net Zero by 2050' strategic initiative, and the bank's strategic goal, announced in 2020, to allocate 50% of its total funding until 2025 to climate-friendly projects.
The Asian Infrastructure Investment Bank is a multilateral development bank that aims to improve living and economic conditions in Asian countries by supporting infrastructure projects.
The Beijing-based bank began operations in January 2016 and currently has 103 members from around the world.
As one of the founding members of the AIIB, the UAE is committed to supporting the vision to drive sustainable development through innovation.
. @HHShkMohd opens the 6th Annual Asian Infrastructure Investment Bank (AIIB) Board of Governors Meeting. The meeting is chaired by the #UAE and brings together 103 members & strategic partners. @AIIB_Official pic.twitter.com/UtNDe3wHNn

— Dubai Media Office (@DXBMediaOffice) October 26, 2021