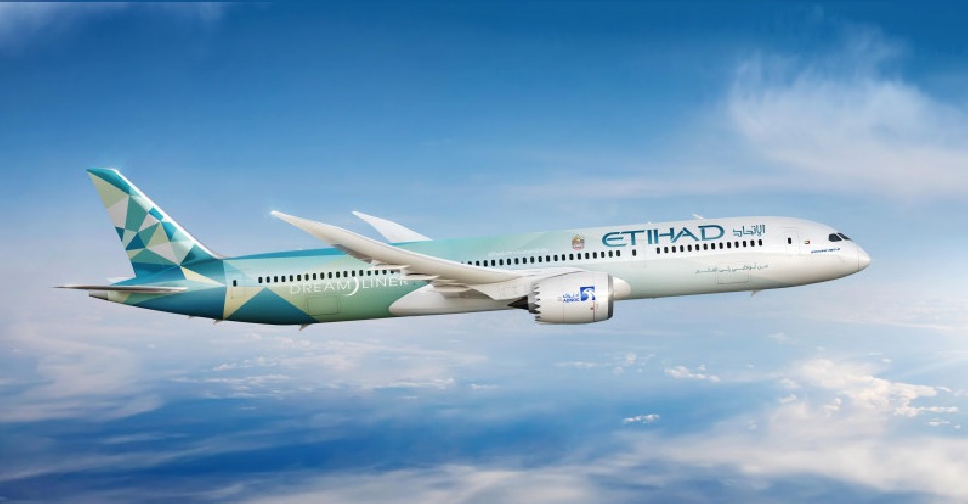 Design for the 'Greenliner' was unveiled at Dubai Airshow by Tony Douglas, Group CEO of Etihad Aviation Group, and Stanley Deal, Executive VP of the Boeing company
A first-of-its-kind 'eco partnership' has been inked between Etihad Airways and Boeing.
The 'Etihad Greenliner' - a specially-themed Boeing 787 Dreamliner - is set to be introduced early next year.
It will be used by both companies to test products, procedures and initiatives designed to reduce aircraft carbon emissions while the aircraft operates scheduled services across the airline's network.
Other stakeholders will also be invited to join the firms in advancing and testing efficiency measures on or with the 'Greenliner'.
Etihad also announced that it would operate a Boeing 787 'eco flight' from Abu Dhabi to Brussels during Abu Dhabi Sustainability Week in January 2020, incorporating a wide range of environment-focused initiatives.
"The rapid growth of air travel has increased aircraft carbon emissions, and it is the responsibility of the aviation industry to reverse this trend. The 'Etihad Greenliner' will highlight the shared commitment of Etihad and Boeing to advance sustainable practices in aviation," said Tony Douglas, Group CEO of the Etihad Aviation Group.
Stanley Deal, Executive VP of The Boeing Company, and President and CEO of Boeing Commercial Airplanes, said they were delighted "to partner with Etihad to leverage the Dreamliner platform to identify ways to further improve sustainability in airline operations".