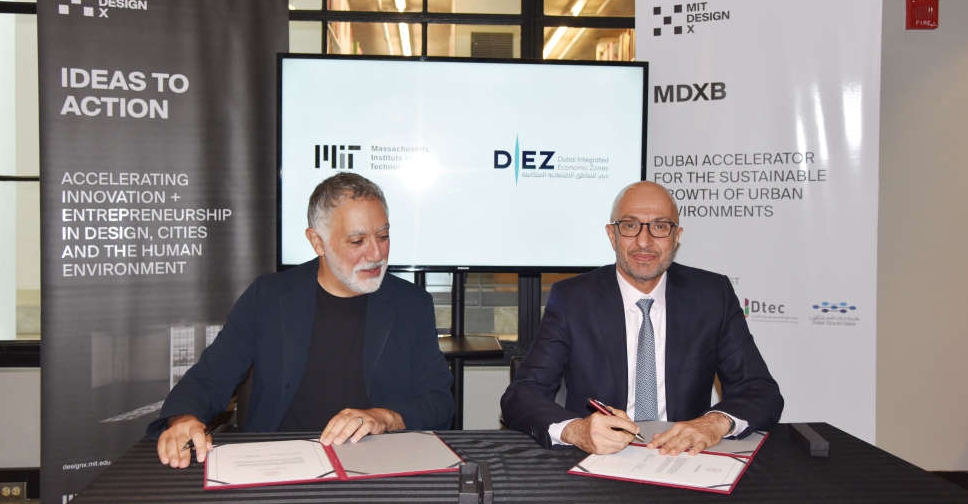 The Dubai Integrated Economic Zones Authority (DIES) has signed a partnership agreement with the Massachusetts Institute of Technology (MIT) to launch the "Dubai MIT DesignX Dubai" accelerator programme.
It's the first of its kind for the institute in the region to facilitate the establishment of innovative businesses.
The accelerator, which focuses on sustainability and the future of cities, aims to boost the construction of innovative projects to enable entrepreneurs in the region to create effective solutions and innovative designs to address the most pressing global challenges in the urban environment, such as water, climate, food security, and energy.
It provides comprehensive support for business development and design, including easy access to experts and professors at MIT, investors and partner companies. According to the agreement, the MIT DesignX Dubai accelerator program will be directed by faculty members and distinguished students at MIT, who will work under Global Growth Hub (GGH), a Dubai-based management and advisory firm dedicated to fostering innovation, entrepreneurship, and economic growth.
The agreement was signed by His Excellency Dr. Mohammed Al Zarouni, CEO of the Dubai Integrated Economic Zones Authority (DIZ), and Hashem Sarkis, Dean of the School of Architecture and Planning at the Massachusetts Institute of Technology, in the presence of a number of officials from both parties, on the Massachusetts Institute of Technology campus in Boston.
It will contribute to strengthening Dubai's position as a pivotal global centre for sustainable entrepreneurship, development and design, and provide a competitive model environment that supports innovation and project launches within a comprehensive vision for leadership and shaping the future.
.@diezaofficial launches 'MIT DesignX Dubai' Accelerator in partnership with @MIT, an initiative focused on driving sustainable solutions for the cities of tomorrow.#YearofSustainability #TodayForTomorrow #COP28UAEhttps://t.co/pqtkjH88GS pic.twitter.com/IzPDhrmSid

— Dubai Media Office (@DXBMediaOffice) September 10, 2023