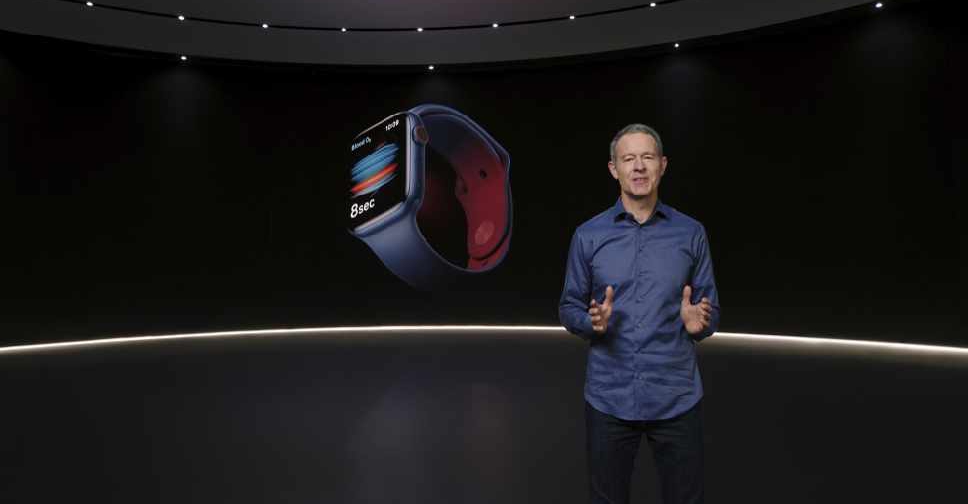 HANDOUT / APPLE INC. / AFP
Apple rolled out a new virtual fitness service and a bundle of all its subscriptions, Apple One, focusing a holiday-season product launch on services that are the backbone of its growth strategy.
Apple also introduced a new Apple Watch Series 6 that monitors blood oxygen and will cost $399 and a more basic Apple Watch SE for $279.
But the bevvy of incremental updates to existing hardware and subscription price tinkering disappointed investors, with Apple shares closing up 0.2 per cent.
The Apple One bundle will cost $15 per month for an individual plan or $20 per month for a family plan and include television, music and games. Apple is also offering a bundle for $30 per month that adds news, the fitness service and more storage.
"It's a lot more aggressive pricing than I thought," said Ben Bajarin, principal analyst for consumer market intelligence at research firm Creative Strategies, adding that Apple customers already paying $15 a month for family plans to some of the company's content servers would likely find the largest bundle a "no-brainer".
Apple said both new watches and a new eighth-generation iPad can be pre-ordered starting Tuesday and will be available on Friday. Apple also introduced the Apple Fitness+ service, powered by its watches, that will deliver virtual workouts for $10 per month or $80 per year and be available before the end of the year.
Apple also for the first time offered a way to use an Apple Watch without pairing it one-to-one with an iPhone, offering what it calls "Family Setup."
Meanwhile, the tech giant added a faster chip to its base model iPad, which it priced at $329 for consumers and $299 for students. Apple's new iPad Air will cost $599 and look more like its iPad Pro models and a new A14 processor chip that Apple says will be the first to use a 5-nanometer chip manufacturing process.
An update of Apple's biggest seller - the iPhone - is expected to be announced next month after executives have said its launch will be delayed by several weeks because of pandemic-related disruptions.