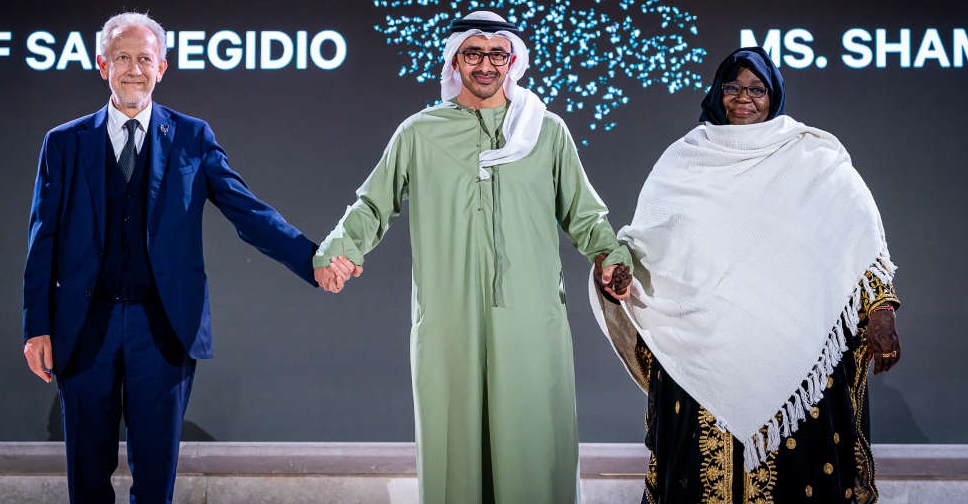 WAM
H.H. Sheikh Abdullah bin Zayed Al Nahyan, Minister of Foreign Affairs and International Cooperation, honoured the Community of Sant'Egidio organisation and Kenyan peace builder Shamsa Abubakar Fadhil at a special ceremony.
The two co-honorees of the 4th Zayed Award For Human Fraternity were recognised for their contributions towards building a more peaceful and compassionate world through advancing the values of human fraternity and setting an inspiring example of promoting peaceful coexistence.
Rome-based humanitarian association - the Community of Sant'Egidio - has been successful in carrying out peace negotiations and conflict resolution through religious diplomacy and intercultural dialogue - promoting peace in various places around the world, from Guatemala to Mozambique. Notably, the organisation continues to assist refugees and support their integration into host societies through their 'Humanitarian Corridors' initiative.
On the other hand, Kenya's 'Mama Shamsa' has been lauded for empowering young people in her country to lead lives away from violence, crime, and extremism, by providing them with counseling, care and training.
In virtual addresses, Grand Imam of Azhar, Dr. Mohamed Ahmed El-Tayeb, and Pope Francis, Head of the Catholic Church, applauded the winners for promoting a culture of peace that encourages dialogue, mutual understanding, solidarity, sustainable development, and inclusion.
Held under the patronage of President His Highness Sheikh Mohamed bin Zayed Al Nahyan, the Zayed Award for Human Fraternity is an annual independent international award that recognises people and entities of all backgrounds, anywhere in the world, who are working selflessly and tirelessly across divides to advance the timeless values of solidarity, integrity, fairness, and optimism and create breakthroughs towards peaceful coexistence. It includes which a $1 million prize.